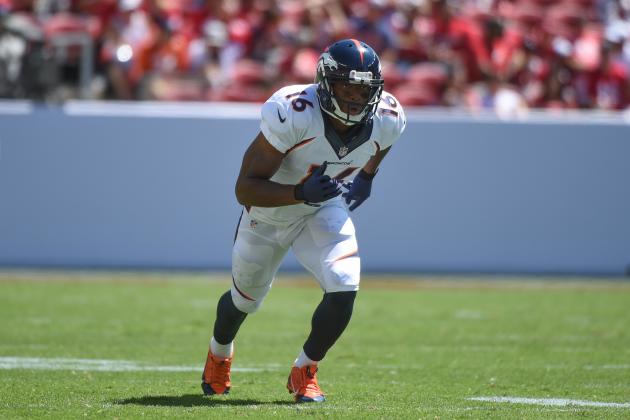 Fantasy Updates
Detroit Lions
Zach Zenner made his NFL debut in Thursday's pregame against the New York Jets. Leading the team in carries, Zenner ran for 55 yards. Zenner's main competition in the crowded Lion backfield is George Winn, who is currently listed fourth on the Lion depth chart for the RB position. Winn had 5 carries for three yards in Thursday's game. Though Zenner had a stronger showing than Winn, the roster spot will most likely be decided on what each player can contribute to special teams.

Joique Bell is still listed on Detroit's PUP list with a knee and Achilles injury. With this in mind, Detroit may elect to keep 5 RBs on their roster list. If this happens, Zenner would probably remain on the Lions' roster.

Greg Salas is battling for a WR position on the Detroit roster. Salas had a monster game against the Jets and led the team in yards and receptions. Salas caught 5 passes for 92 yards and 1 TD. Salas will have to continue putting up good numbers to stand out from the four other Lion WR hopefuls throughout the preseason trials if he wants to get on the 53-man roster.

Pittsburgh Steelers

Rookie WR CJ Goodwin had 2 receptions for 25 yards and 1 TD in Friday's game against the Jacksonville Jaguars. The Steelers currently have five WRs listed on their roster, with Goodwin competing to knock Sammie Coates, Darrius Heyward-Bey, or Martavis Bryant out of the roster position. Overall, Pittsburg has a talented receiving corps, but if Goodwin can continue to catch passes and score, then he could be the biggest sleeper on the Pittsburg roster.

Jacksonville Jaguars

Toby Gerhart had a disappointing 2014 season. On 101 carries, Gerhart ran for 326 yards and 2 TDs. This knocked Gerhart out of the starting RB position. New talent is now challenging Gerhart for his spot on the 53-man roster. With T.J. Yeldon and Denard Robinson predicted to start ahead of the six-year veteran, Gerhart is competing with Storm Johnson and Bernard Pierce for RB3. In Friday's preseason game against the Steelers, Gerhart had four carriers for 13 yards and two receptions for 30 yards. Gerhart's ability to catch passes might let him stay ahead of Johnson and Pierce.

Denver Broncos

Bennie Fowler is fighting for a spot on the Denver roster. In Friday's win against the Seahawks, Fowler went 3-for-3 in targets and receptions for 67 yards. Fowler stood out with a 41-yard catch that set Denver up for the game winning field goal. Fowler's current competition is Andre Caldwell. However, in this game Fowler showed that he had the speed and the ability to catch passes for positive yardage that could make him a valuable asset to the Denver team.

Seattle Seahawks

Thomas Rawls is looking to be RB3 on the Seahawk roster. In Friday's game against the Denver Broncos, Rawls had a strong performance with 9 carries for 31 yards and one reception for 19 yards and a TD. The rookie led in carries and doubled the yardage of his competition, Christine Michael. The Seahawks are looking for consistency. If Rawls can continue to have strong running games during the preseason, then there is a good chance he could overtake Michael for the RB3 spot.

Minnesota Vikings

Adam Thielen is entering his second season with the Minnesota Vikings. Currently listed on Minnesota's first depth chart, Thielen will have to fight to keep his spot. In Sunday's game against the Tampa Bay Buccaneers, Thielen had two receptions for 54 yards and a TD. However, what Thielen can contribute to special teams this year is what will solidify his spot on the roster.
Stay tuned to ASL for the best fantasy news and sporting news around!