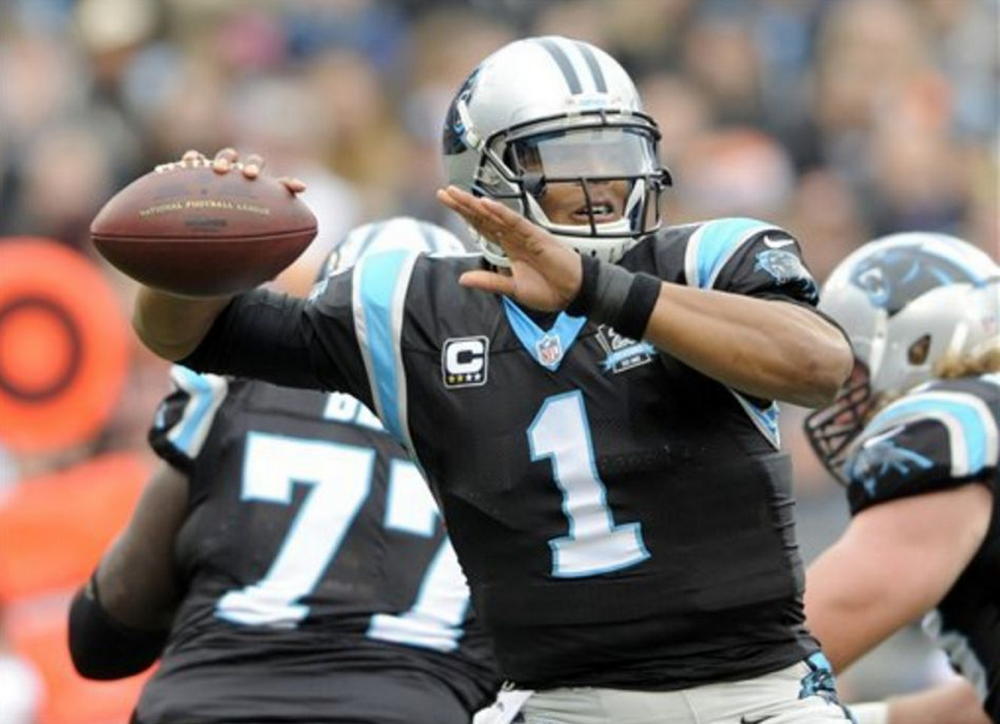 Fantasy Updates 
Quarterback: Cam Newton
In offseason sporting news, Cam Newton signed a new five-year extension signifying that GM Dave Gettleman views his starting quarterback as a top tier playmaker and Newton will have to play up to that standard if he is to warrant his round six grade by the Machine. Fantasy owners can no longer bank on Newton to be the rushing king among QBs. His rushing numbers in 2014 (539 yards, five touchdowns) were all career lows and his play action although effective may take a hit with DeAngelo Williams no longer with the team. Although Kelvin Benjamin and Greg Olsen are terrific, Devin Funchess and Philly Brown are not. Newton will have to be an elite thrower and keep his interceptions down if he wants to have another Pro-Bowl level season. And although he is durable, the Panthers offensive line looks extremely thin. If Michael Oher the expected left tackle plays to the mediocrity of his Tennessee Titans days then there is serious concern about Cam being unable to sustain good QB play.
Running back: Jonathon Stewart
The unpredictable nature of Jonathon Stewart means that he should only be activated on your fantasy roster in case of an injury emergency or if Stewart is facing bad run defenses. His only 100 yard rushing games came against New Orleans (29th) and Cleveland (32nd) in yards allowed so that's a promising trend. Even though DeAngelo was shipped out of Carolina, Stewart has never been a feature back but the only other capable runner is Mike Tolbert. Stewart has decent TD numbers (4 rushing and 1 passing) in only 14 games considering his low ADP.
Wide receiver: Kelvin Benjamin, Devin Funchess
Kelvin Benjamin did not disappoint Carolina Panthers' fans in 2014. His rookie receiving numbers were near the tops among a competitive group and he proved that many of his projected struggles were overblown. Benjamin should be the Panther's leading receiver in all categories and he may bump up his 2014 total 9 TDs to double digits. He and Cam already have a very nice chemistry together and it should be an exciting connection to watch especially due to Benjamin's red zone ability. The Machine's third round grade for Benjamin may seem rich but it is fair based on his upside alone.  
Devin Funchess is a rookie from Michigan and now Carolina's No.2 receiver. His size is very intriguing but if Carolina uses him as an outside receiver, he may have lots of struggles getting acclimated to NFL coverage. He is similar to his counterpart Benjamin in that, Funchess has no speed and lacks separation ability but to much larger extent. He is a good player to stash in the later rounds and take out if he improves later on in the season.
Tight End: Greg Olsen
If you value consistency over potential, then take Greg Olsen higher than his sixth round projection by the Machine. He is a lock to be a top-five TE in this underused position. Olsen is perhaps the Panther's best receiver and the lack of other options means his targets are going to keep coming. Book Olsen to finish with anywhere from 800 to 1000 yards in 2015 and be a top TE in fantasy news.