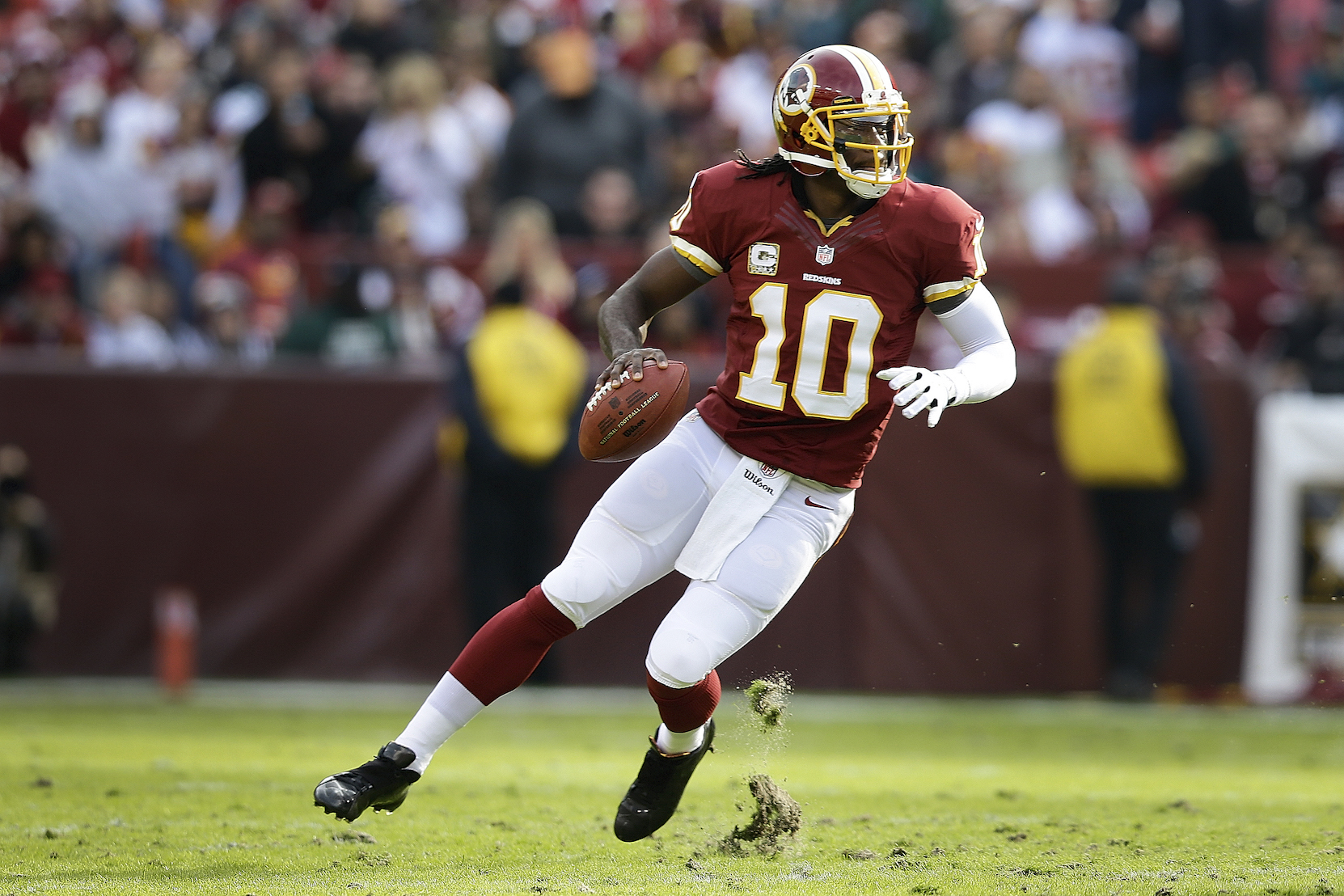 Fantasy updates with overall picks generated by "The Machine" are listed next to each player.
QUARTERBACK

Robert Griffin III (153) only played in 9 games last season but is still making a splash in fantasy news. Injuries have plagued Griffin since his start as a rookie in 2012. Enduring a torn ACL in 2012 and a dislocated ankle in 2014, Griffin has not been able to bounce back to his stellar stats from his first season. Going from 3,200 passing yards and 20 TDs in 2012, Griffin has since been battling to keep the starting QB position.

This season is important to Griffin as it will most likely be a deciding factor for the remainder of his career. During the offseason Griffin has worked on playing smarter football by improving his fundamental skills. Griffin's injury risk might scare away some fantasy owners, but with a healthy receiving corps, Griffin could be a sleeping gold mine. However, until owners see how the Washington offense comes together, Griffin is a bye-week option or QB2 at best.

RUNNING BACKS

Alfred Morris (97) is the most consistent component to the Redskin offense.  Last season Morris rushed for 1,074 yards and 8 TDs. With a redesigned offensive line by Coach Bill Callahan, Morris will receive more protection and better blocks coming out of the pocket. The amount of passing plays to Morris has more than doubled since 2013. Expect Morris to run the ball more effectively and be more integrated into the Redskin passing game. With this in mind, Morris is a solid RB2 option.  

Matt Jones will support Morris in the backfield. Jones is a third round pick out of the University of Florida. In his senior year, Jones rushed for 817 yards and 6 TDs. Coaching staff see a lot of potential in the power back, who is also a pass catching threat, but comes with an injury history. Chris Thompson and Silas Redd provide a speed element, though only one probably makes the team. 

WIDE RECEIVERS

DeSean Jackson (46) led the Redskins in receiving last season. Jackson caught 56 passes for 1,169 yards and 6 TDs. Though Jackson's stats dipped since his 2013 season with the Philadelphia Eagles, it is understandable. Last season Jackson caught passes from three different QBs on a very inconsistent QB rotation. With a healthy RGIII, expect Jackson to eclipse the 1,000 mark. Jackson is a viable WR2 option.

Pierre Garcon (60) caught 68 passes for 752 yards and 3TDs. Though Garcon had a disappointing season, it is good to keep in mind that he went through the same QB rotation as Jackson. Garcon is capable of hitting the 1,000 yard marker, it just depends on the Redskin ability to run accurate passing plays. In the past, Garcon has played better with a healthy RGIII. This season, Garcon's numbers should go up, making him a WR2 or bye-week option.

Supporting the wide-out position are players Andre Roberts and Ryan Grant. Roberts is entering his sixth season in the NFL. Last season, Roberts was targeted 72 times, catching 36 passes for 453 yards and 2 TDs. Grant is going into his second season with the Redskins. Last season Roberts caught 7 passes for 68 yards. There is potential for Roberts and Grant, but fantasy owners should stick with Jackson and Garcon at the WR position.

TIGHT END

Jordan Reed (191) has the potential to be a breakout star this season. Finally healthy from a string of soft tissue injuries, Reed will hopefully have a strong start this season. Reed is one of Griffin's favorite players to throw to. Last season Reed was targeted 65 times in 11 games. He caught 50 passes for 465 yards, making him a solid TE2 option.

However, the Redskins currently list Niles Paul as their tight end starter. Last season, the former wide receiver caught 39 passes for 507 yards with one score. Now he's bulked up for blocking while entering this season a more experienced player. Fantasy owners should keep an eye on both Reed and Paul seeing as either might end up as the starter, but the uncertainty makes both risky for now.
Keep reading ASL's sporting news for the best fantasy analysis!