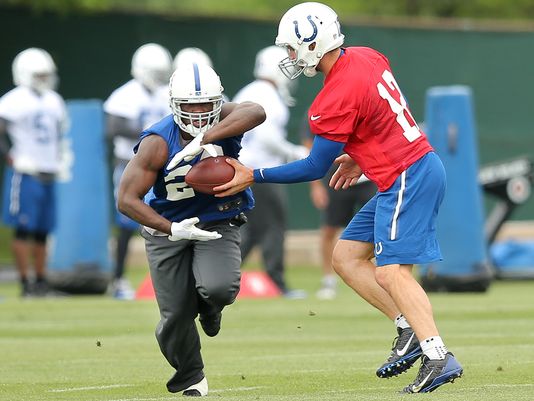 Fantasy updates with overall picks generated by "The Machine" are listed next to each player.

QUARTERBACK

Andrew Luck (14) is the highest-ranking QB according to The Machine. It's no surprise considering Luck threw for 4,761 yards and 40 TDs with a 61.7% completion rate. The Colts are known for running passing plays, and are ranked number one in the NFL as passing yard leaders. Offseason fantasy news of the addition of Andre Johnson and Frank Gore to the team will further the passing game for Luck. Expect bigger plays and a stronger overall offense from Indianapolis. Luck is an easy second round draft pick and a winning QB1 choice.

RUNNING BACKS

With the release of Trent Richardson, the Colts have an updated and stronger backfield with the signing of Frank Gore (48). Gore led the San Francisco 49ers with 1,106 rushing yards and 4 TDs. With Richardson as the RB1, the team rushed for 1,612 yards, ranking 22 in the NFL. Acknowledging that Richardson was a bust, the Indianapolis coaching staff is hoping that Gore can give rejuvenated energy to the struggling backfield. Despite his age, Gore is an easy RB1 choice.

Daniel Herron and Vick Ballard will support Gore in the backfield. Last season Herron rushed for 351 yards and one TD. Averaging 4.5 yards per carry, Herron is likely to get more playing time this season. Ballard has been sidelined for the past two seasons with a torn Achilles tendon and ACL. However, his rookie season showed his true potential. In 2012 Ballard led the Colts in rushing with 814 yards and two TDs. Though there is a lot of potential for the two back up RBs, fantasy owners should wait to see how the Indianapolis backfield develops in the beginning of the season.

WIDE RECEIVERS

Andre Johnson (58) made headlines when he left the Houston Texans to sign with the Colts. In a search to receive passes from "an elite QB," it looks like Johnson has found his home. The Colts were ranked first in the 2014 season for passing yard leaders. With 661 attempts, Luck was able to hit his target 410 times. Johnson caught 85 passes for 936 yards under the rotation of Houston QBs. Fantasy owners should expect Johnson's receptions and yardage to increase under Luck. With an elite QB throwing passes to him, Johnson should be a WR2 draft pick.

T.Y. Hilton (21) caught 82 passes for 1,345 yards and 7 TDs last season. Though Hilton is listed as the WR2 on the Indianapolis depth chart, Hilton has a strong chemistry and knowledge of the Colts playbook that Johnson hasn't had a chance to experience. Hilton's speed and ability to catch passes has the Colts ready to make a long-term contract deal with the star wide out. Fantasy owners should follow suit. Last season Hilton was in the top 15 for wide receiver fantasy scoring, making him an easy WR1 draft pick.
Donte Moncrief and rookie Philip Dorsett are pure burners. Both likely have value at times during the season, but little more than late round flyers in drafts at this point.

TIGHT END

Two of the Indianapolis TEs made the cut for top draft picks by The Machine. Last season Coby Fleener (104) was the third highest receiver for the Colts. Catching 51 passes for 774 yards and 8 TDs, Fleener was one of Luck's favorite players to throw to. Dwayne Allen (186) received for 395 yards and 8 TDs. Fleener and Allen led the team in TD receptions, making the TE position a red zone favorite for Luck. Fleener and Allen are solid TE2 or bye week choices. However, Fleener looks like a stronger candidate to draft onto a team.
For the best in sporting news, stay tuned to ASL all season long!