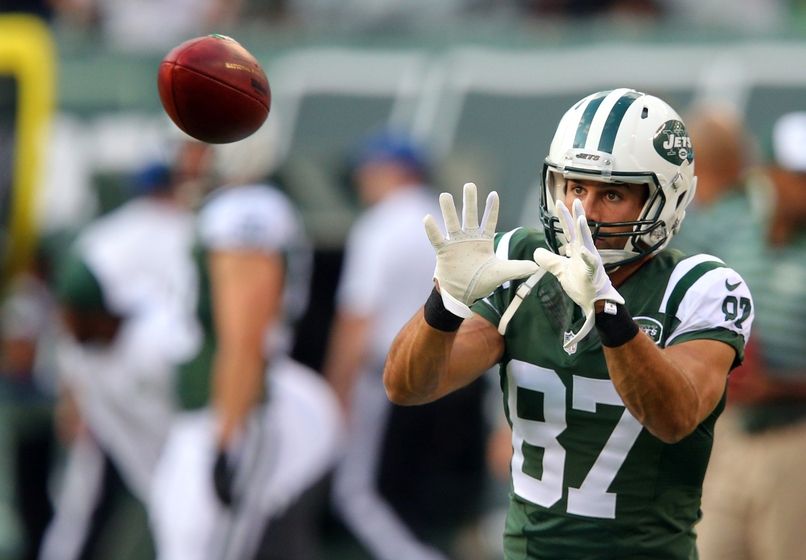 WR Fantasy Football News
DeSean Jackson (46th in our rankings, 71.11 ADP, 69th overall by ADP): Will the real DeSean Jackson please stand up? Last season, Jackson had eight games in which he either caught a touchdown or had over 100 yards receiving, but also had eight games in which he had 65 yards or fewer and no touchdowns. Jackson will likely lose out on catches from Robert Griffin III again this season with Pierre Garcon on the field, but he has led the league in average yards per target for two consecutive seasons. Jackson will likely exceed 1,000 yards receiving even if the Washington football team's offense doesn't provide him with many touchdown opportunities. But that big play upside is why you can bank on him as a WR2.  Look to hear from him in WR news this season.
Eric Decker (70th, 109.39, 114th): The Jets have been a laughingstock for a few years now, but QB Geno Smith will finally have multiple good targets in Brandon Marshall and Decker. Decker will almost definitely not be the same receiver he was when Peyton Manning threw to him in Denver, but it would not be surprising to see him at least match his performance from last year (74 catches, 962 yards, 5 TD's.) If Decker can again approach 75 catches and 1,000 yards as the Jets' #2 target in new offensive coordinator Chan Gailey's offense while adding in 5 or 6 TD's, he could provide your team with WR2 value at a time in the draft where you'd likely already be looking for a WR3.
Anquan Boldin (77th, 157.32, 189th): The veteran Boldin has been so strong and so consistent these last few years. In two seasons with the 49ers, Boldin exceeded 80 receptions and 1,000 receiving yards. Last season, Boldin received 130 targets, and should continue to receive a high number of targets as the likely #1 volume receiver for the 49ers. Even with the addition of Torrey Smith and the 2015 49ers roster looking very different from the 2014 iteration, Colin Kaepernick and the 49ers offense will probably turn to Boldin for yardage. Even factoring in the possibility of decline, Boldin should be drafted far ahead of where he's going right now.
Steve Smith, Sr. (83rd, 160.96, 194th): The reception opportunities are there (133 targets and 79 catches in 2014) The touchdown opportunities are there (6 TD's last year.) So why is Steve Smith going so late? It's probably because it feels like he's been around forever (the veteran debuted in 2001, and the "Sr." he recently appended to his name doesn't help.) Smith is not the same player he was during his prime, but he is still dependable and often has a big play in him. Smith has missed only one game in the last four seasons and averaged 13.5 yards per catch last season. Smith could serve as a good second or third wide receiver playing in the Ravens' offense, but he's being drafted as a speculative late-round pick.
Malcom Floyd (119th, 251.96, 381st): Last week Philip Rivers was on the QB edition of Searching for Sleepers. Floyd is part of the reason. Write him off as an injury risk at your own risk, as although Floyd has only played 16 games twice in his 11 seasons with the Chargers, one of those seasons was 2014, and Floyd put it all together to serve as a dependable fantasy receiver. Floyd has no need for a large number of receptions or targets, as his 16.5 yards per catch ranked 5th among all qualified receivers. While this may weaken his value in PPR leagues, it helps a lot if your league rewards yards or touchdowns. Floyd found the end zone 6 times last year, and while TD's can be quite fluky, Floyd's profile as a deep threat helps increase the likelihood that he can match or surpass that number this year. He could reach WR3 value, but he's definitely worth considering at least as depth on your bench in the later rounds of your draft.
Stay tuned to ASL for WR fantasy news all season long!