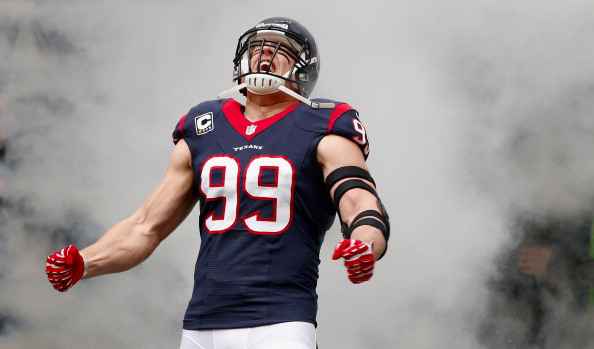 Overall picks generated by "The Machine" are listed next to each player.
Fantasy Updates
QUARTERBACKS

Head Coach Bill O'Brian has stated that the competition for starting QB will be decided during training camp. The list for potential starters has been narrowed down to Brian Hoyer or Ryan Mallett. Though the two QBs have relatively similar completion percentages, it looks like Hoyer may have the upper hand.  Stay tuned to ASLs fantasy news for updates on this QB battle.

Under the Cleveland Browns Hoyer had a 7-4 start before losing his starting position. Overall, Hoyer threw for 3,326 yards and 12 TDs. The Texans need stability in the passing game, and although Hoyer hasn't been the most consistent passer, Houston offers more tools to get the ball downfield.

Mallett is coming off of a season ending injury, but has been cleared to participate in training camp. Mallett started in two games before he tore his pectoral muscle. During the two games that he played in, Mallett threw for 400 yards and 2 TDs.

Wait to see how the starting QB acclimates to the Texan offense before adding a Houston QB.

RUNNING BACKS

Arian Foster (16) ran for 1,246 yards and 8 TDs in the 2014 season. Though he's had some nagging injuries that had him sidelined for three games, Coach O'Brian denies fantasy owner suspicions of a decreased workload for this season. The Texans attempted the rush 551 times, racking up 2161 yards. Ranking 5th in the league in rushing yards, fantasy owners should be put at ease; the Texans are still going to rush the ball and Foster will be the premiere back.

Supporting Foster in the running game is RB Alfred Blue. Blue is entering his second season with the Texans and had a breakout game while filling in when Foster was injured. In that game, Blue proved that he could support the running game, rushing for 136 yards. Blue played a supporting role in all 16 regular season games, and ran for a total of 528 yards. Blue has potential, but most of the touches will continue to go to Foster.

WIDE RECEIVERS

The Texans lost veteran wide out Andre Johnson (58), but signed Cecil Shorts III (151) in return. Though Shorts will be playing support to DeAndre Hopkins (29) he will get a spot within the slot. Last season Shorts caught 53 passes for 557 yards and 1 TD. Shorts could be a decent bye-week WR, depending on the use of a three wide set by the Texans.

Last season the ball was thrown to Hopkins 127 times. Hopkins caught 76 of those passes for 1,210 yards and 6 TDs, leading the receiving corps for the Texans. Hopkins stats should go up with a consistent starting QB and the release of Johnson. Hopkins is a solid WR1 option. Last season he averaged 15.9 yards per catch and put up an average of 75.6 yards per game. He will get the ball thrown to him and has proven that he can make positive yardage per catch. Hopkins will do well for PPR leagues.

TIGHT END

Garrett Graham will start as TE for the Texans. After a season ending injury, Graham ended the 2014 season with 18 receptions 197 yards and 1 TD. However, looking back to the 2013 season, Graham has proven himself a red zone target with 5 TDs, 49 receptions, and 545 yards. Graham will be a deep pick but could make a decent TE2 or bye week option.

J.J. Watt

The NFL Network named J.J. Watt the #1 player in the league as he continues to dominate sporting news. Leading the Houston defense, Watt had 20.5 sacks, one interception for a TD, one fumble recovery for a TD, and a block. On the offense, he went 3-for-3 in receptions for TDs. He is an overall threat, and a leader in the ranking for the Houston Defense (131).