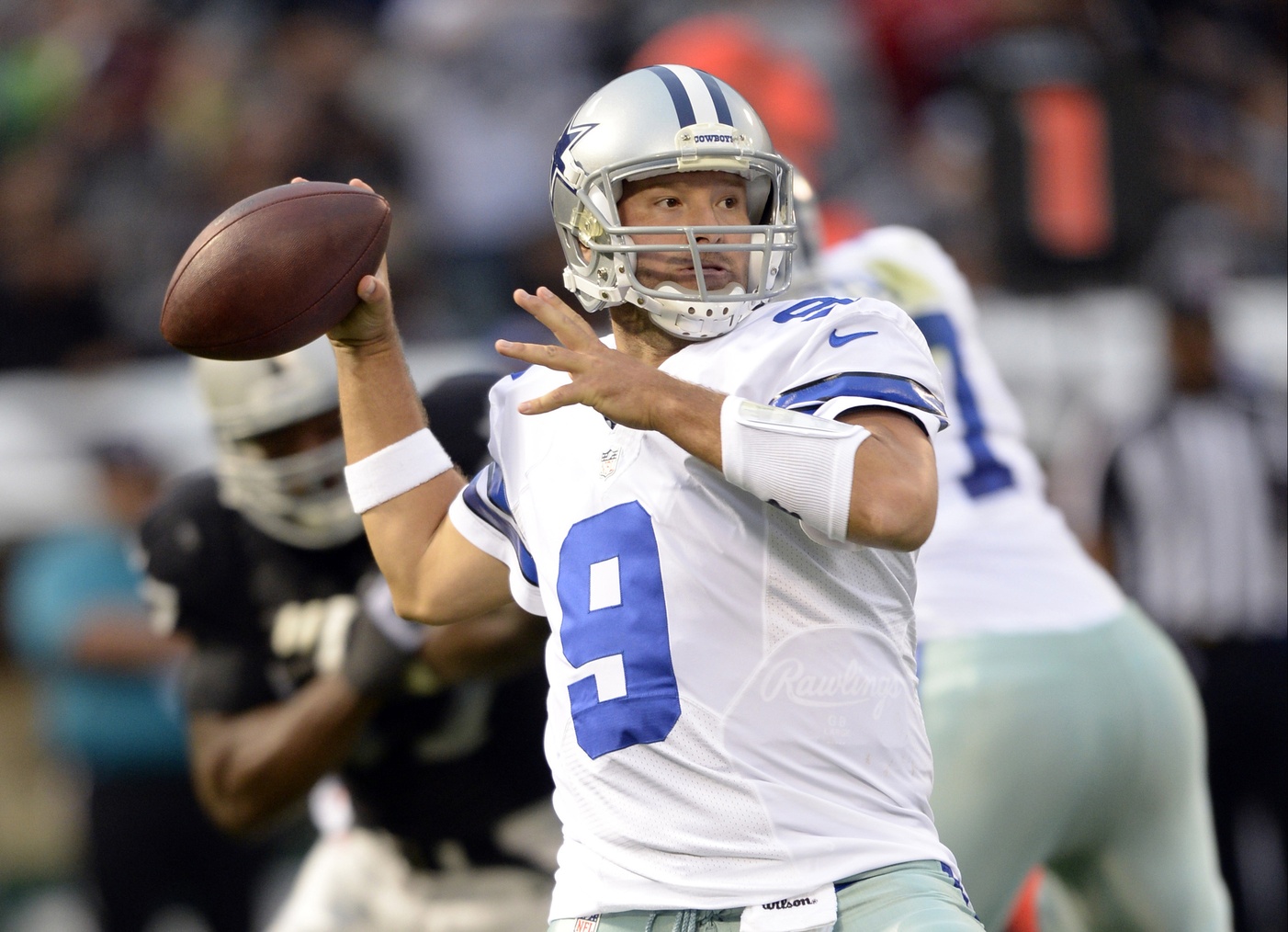 Peyton Manning (37th overall, 80.01 ADP, 82nd ranked ADP)- Who would have thought Peyton Manning, one of the top quarterbacks not only of all time, but also one of the best in the game right now, could be a sleeper? On average, Manning is the 10th QB off the board while our rankings have him as the third-best player available. Even in his later years, Manning has exceeded 4,500 yards and 35 TDs in each of his 3 seasons as a Bronco. Sure, there are reasons to doubt Manning. He will be 39 this season and has a less pass-happy coach now with Gary Kubiak. Don't expect Manning to put up the numbers that have guaranteed him passage into Canton, but expect him to provide 4th or 5th round value. Getting him any later than that should be a steal.
Tony Romo (69th/105.30/112th)- Romo may not provide a very high upside, but you can bank on Romo for consistency and value. Although he has not exceeded 4,000 yards or 400 completions in the last two years, Romo has room for improvement in 2015. With DeMarco Murray gone, look for the Cowboys to rely more on Romo's connection with star receiver Dez Bryant. The Cowboys also return all of Romo's top four receiving targets in terms of yardage (Bryant, Terrance Williams, Jason Witten, and Cole Beasley.) Given the number and quality of targets Romo has at his disposal, expect him to be in the conversation for top-10 fantasy quarterbacks at the end of the season.
Phillip Rivers (71st/122.12/135th)- The simple argument for Rivers' value lies in the fact that he puts up top-10 QB caliber numbers. Rivers ranked 4th in completion percentage and in the top-10 in yards per game in 2014. In the last two seasons, Rivers has also put up a completion percentage over 65% and exceeded 30 TD's in each of the last two seasons. Rivers will lose Antonio Gates as a target for the first four games of the season, but still has both Malcom Floyd and Keenan Allen to throw to. The Chargers will likely rely on Rivers to lighten up the load for rookie Melvin Gordon, and coach Mike McCoy has been historically reliant on the passing game.  Be sure to pay attention to QB news with Rivers, as he has a lot at stake this season.
Jay Cutler (127th/170.64/211th)- Cutler has solid QB2 potential but may not be drafted in your league. Cutler missed one game last season, but came just short of 400 completions and 4,000 yards. He also offers a mixed bag of results, as he went for a career high in TD's (28), but also INTs (18) and fumbles (9). With the loss of Brandon Marshall, other drafters appear to be undervaluing Cutler. He's not going to provide you with QB1 upside and be a star, but he offers steady value. If you can get him late, he's worth a shot. In addition, he is no stranger to QB fantasy news, usually in a negative light.
Carson Palmer (148th/186.71/236th)- Palmer is being drafted 27th among QBs, going on average near the end of the 19th round, thus often going undrafted in shallower leagues. According to our rankings, Palmer should be going in the 15th. If you're waiting until the later rounds or making a speculative waiver-wire add, Palmer would be a good option. Palmer was on a full-season pace for 4,300 yards and nearly 30 TD's before going down in week 10 last season. With a full season of Larry Fitzgerald and potential sleepers John Brown and Michael Floyd, Palmer offers high-end QB2/low-end QB1 upside as a late-round flyer.
Keep reading ASLs QB fantasy football analysis for more tips with your QB!