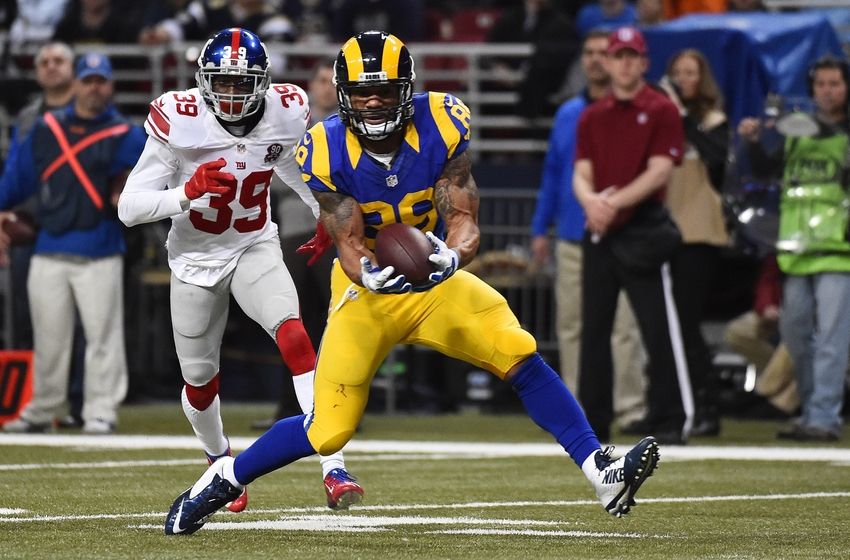 Quarterback: Nick Foles
In his final season with the Philadelphia Eagles, Nick Foles finished with an underwhelming 13 touchdowns and 10 interceptions. Whether or not the numbers are dramatically better in 2015, expect Foles to be a game-manager for St. Louis this season. The Rams drafted RB Todd Gurley and three offensive lineman in the first four rounds of the draft, indicating that the team will continue with their run-first philosophy. The Machine has Foles in the 13th round. That he lacks impressive passing-game targets plays a part. He shouldn't be viewed as anything but a backup or 3rd quarterback on your fantasy roster. His passing stats will be comparable to Alex Smith's, but without the rushing yards.
Running Back: Todd Gurley, Tre Mason
The Rams selected Gurley in round one despite his recovering from ACL surgery this past November. No doubt the former Georgia standout offers sincere upside, but his status is still a question. He hasn't practiced at all with the Rams and likely won't be ready for Week 1. Those question marks aside, The Machine has Gurley in the 4th round and the 12th ranked RB because he is a special back who will put up production immediately under coach Jeff Fisher. Take Gurley at the right spot and stash him while adding other quality running backs on your roster to fill in for him. Expect strong numbers once the strong runner starts. 
It's too bad that the Rams had to draft Gurley which messes up immediate future for second-year RB Tre Mason, who made a splash in fantasy news last season. Though Mason beat out Zac Stacy for the job last season, don't bet on him doing the same against Gurley. All of Mason's production will be predicated on Gurley's health, but there's hope for enough work to use him in Flex spots. Certainly makes for the one of the top handcuff options in the league. 
Wide Receiver: Brian Quick, Kenny Britt, Tavon Austin, Stedman Bailey
The St. Louis Rams' receivers are quite erratic and inconsistent and none of them are true number one wide receivers. It will also be their first time with Nick Foles as their QB. These players should not be anything but additional depth players on your fantasy roster.
Brian Quick and Kenny Britt are listed at round 8 and round 11 respectively by the Machine. Quick was on track to have his best season before a shoulder injury put him on the Injured Reserve. He had 375 yards in 7 games but his first four games he totaled 322 yards. The QB upgrade in St. Louis should improve his numbers as well. He is an intriguing player to consider.
Kenny Britt provides no upside on your fantasy roster but he's going to have yardage numbers because there are no other options for St. Louis. Britt has always been a annual 600-800 yards per season player and expect that to remain the same. However, he only had three touchdowns in the full sixteen game season and had none in 2013. With stability at QB, bet on the over that Britt's numbers increase.
It's safe to call Tavon Austin a bust and to drop him from your fantasy big board. The former West Virginia star should have taken grasp as the Rams' best receiver but he hasn't been able to pass even Kenny Britt and Brian Quick on the depth chart after two years of opportunity. Austin has a very bad 23.6 career yards per game average.
There have been lots of talk about little 5'10' speed receiver Stedman Bailey becoming a big contributor, but don't fall for the hype. There is always the chance that the departure of OC Schottenheimer changes his outlook, but if Tavon Austin couldn't do anything with Jeff Fisher's system, we don't like Bailey's chances either.
Tight End: Jared Cook
Rams' TEs have never been featured heavily in the passing game. Neither Jared Cook nor Lance Kendricks had draft worthy stats last season. They are solid for their run-blocking but don't expect them to contribute on a consistent week to week basis. It remains to be seen if the arrival of Nick Foles changes their effectiveness but don't count on it.
Stay tuned to ASL for the most updated sporting news and fantasy updates!