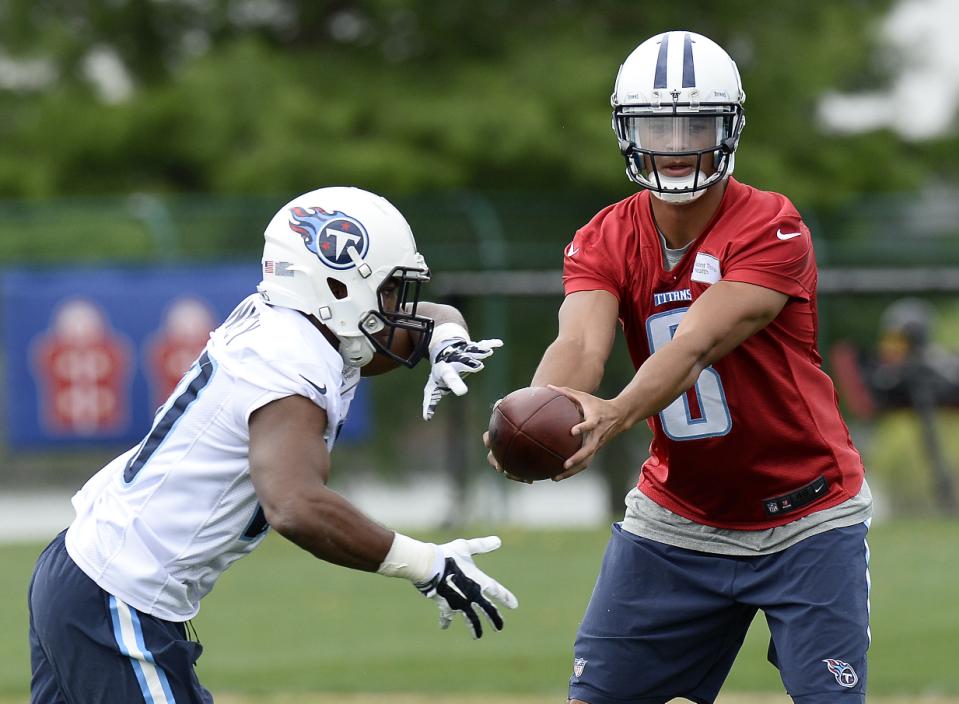 Overall picks generated by "The Machine" are listed next to each player.

QUARTERBACKS

Marcus Mariota (139) has been featured in recent sporting news as he is taking over the role of starting QB from Zach Mettenberger. The Titans have praised the second overall pick throughout offseason workouts, stating that Mariota's accuracy will help lead the team to much needed TDs. With an impressive collegiate stat sheet, Mariota has proven that he is a capable downfield passer, runner, and decision maker. Fantasy owners should not be concerned that the Titans and Mariota have yet to come to a contract deal, as this triple threat is the much-needed player that the Titans have been lacking. Look to draft Mariota as a QB2 or bye-week option as the Titans offense adjusts to its new star addition and look for him to heat up fantasy news.

RUNNING BACKS

The Titans ranked 26th in league rushing and came in last in the AFC South division with just 1,447 rushing yards. To put that number into perspective, DeMarco Murray rushed nearly 400 more yards than an entire team. This offseason Tennessee coaching staff addressed this issue with continued work with second year player, Bishop Sankey (161) and the addition of rookie David Cobb. Expect more rushing attempts by the Titans, as last year the team only attempted to run the ball 356 times. Keep an eye out for David Cobb throughout the start of the season, as he could snub the starting position from Sankey. The young RBs have potential for deep league picks.

WIDE RECEIVERS

Wide receivers Kendall Wright (81) and Harry Douglas will greatly benefit from QB Mariota. Last season Wright caught 57 passes for 715 yards and 6 TDs. Wright averaged 12.5 yards per catch, a statistic that the Titans wish to improve this season. Titans coaching staff hope that with Mariota's accuracy, WRs Wright and Douglas will be able to extend the play by adding on more yards after the catch. Wright is a capable receiver and with the help of an accurate QB, can easily make a decent mid-draft pick for a fantasy team.

The new addition to the receiving corps is veteran WR Harry Douglas. A former Falcon, Douglas has proven his capability as a starting WR in the 2013 season, breaking 1,000 receiving yards and scoring 2 TDs. The Titans are going to give Douglas a big role in the line-up this season; it just comes down to Douglas's ability to catch passes.

TIGHT END

Delanie Walker (76) led the Titans in receiving last season and was a top 10 fantasy scoring TE. A big target, Walker caught 63 passes for 890 yards and 4 TDs. Walker was the most stable receiver for the Titans last season, and it looks like he will continue to be a reliable passing option for Mariota.
For the best fantasy updates, keep reading ASL all season long!