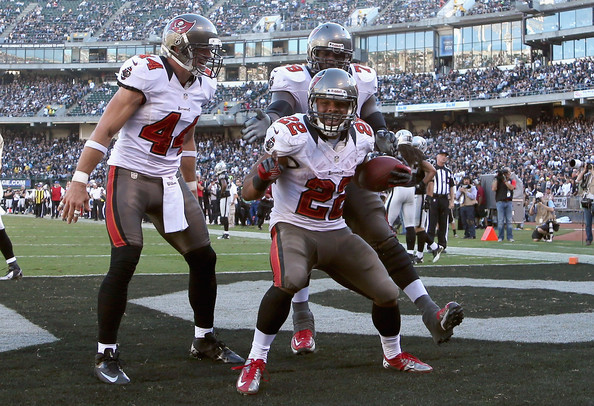 Fantasy News
Quarterback: Jameis Winston, Mike Glennon
The Tampa Bay coaching staff will give every opportunity for their prized rookie QB to succeed. Scouts have deemed Winston to be one of the most pro-ready QBs to come out of college in recent memory. If that should hold true, Winston will make for a suitable number two fantasy football QB. Also having two studs Mike Evans and Vincent Jackson as his wide receivers will let him put up very nice yardage immediately. Be wary of his interceptions which were an issue in college. The Machine has him in the 14th round and grouped closely with names like Alex Smith and Nick Foles and Andy Dalton.
The Tampa Bay Bucs have a very bad offensive line. Last season they gave up 52 sacks tied for last and so an injury to Jameis Winston is a possibility. If it's the Mike Glennon of 2013, he will be a good player to be aware of if such an incident occurs.
Running Back: Doug Martin, Charles Sims
Ever since Martin exploded in his rookie season, he has been a fantasy football troll the past two years. In his contract year, Martin should be able to be able improve on his poor 3.65 yards/carry his past two seasons. And like all first-year quarterback situations, Lovie Smith will want to ease some of the pressure off of Jameis Winston and turn to the run-game when his QB is in trouble. That should be often because of the inept offensive line for the Buc's. Martin is in a good place in Tampa after recovering from his injuries because he is also their best goal-line situation running back.
Martin has never been a good pass-catcher so Charles Sims will be their primary third-down back. Sims has done nothing to prove that he is going to put up big time numbers in 2015 and he will have to share carries with another capable back in Bobby Rainey. Charles Sims should only be a fantasy asset if Doug Martin stinks it up again or gets injured (he might) and is benched for Sims. That could happen so make sure to take Sims late if he's still on the board.
A worry we have with all Tampa Bay running backs is the quality of the offensive line. Besides Demar Dotson and Logan Mankins, the run-blocking is highly suspect.
Wide Receiver: Mike Evans, Vincent Jackson
Mike Evans is a beast. Evans is physically equipped to do anything. He displayed his route-running flexibility by catching deep balls and also getting yards after catch in the intermediate routes with slants and inside runs. Evans finished with an impressive 1051 yards with Josh McCown and Mike Glennon as his quarterbacks. He will be Winston's top priority receiver in 2015 and as always is a terrific red-zone guy with his impressive 6'5' height. Don't be afraid to take Evans as early as the second round.
Vincent Jackson is no longer a big name receiver and he will see more time as the slot receiver now that the 32 year old receiver is slowing down with his older age. OC Dirk Koetter has said this publicly so the situation is eerily similar to that of Roddy White who also played under Koetter in Atlanta. White had averages of 65.8 yards and 5.7 receptions so Jackson can still be a valuable player to have. The Machine has him being taken in the fifth round because Tampa doesn't really have a reliable third wide receiver so Jackson is going to be seeing the field quite often. He only had two touchdowns in fourteen games this past season.
Tight End: Austin Seferian-Jenkins, Tim Wright
Many beat writers and people within the Bucs organization have Seferian-Jenkins making a significant second year jump. In nine games Seferian-Jenkins totaled 221 yards before injuries. He wasn't anything special in his first year but he will surely improve his production with Winston as his quarterback. Remember at Florida State Winston loved utilizing check downs with his tight end Nick O'Leary who broke Florida State's records for receptions. The Machine has him in the 16th round but take him earlier if you feel good about Seferian-Jenkins. Don't count on it however because Evans and Jackson are going to be eating up most of the receptions on this team.
Tim Wright is a very good player and he posted a line of 54(catches)-571(yards)-5(TDs) his rookie season. The Bucs' tight end group has too many contributors for Wright to get any consistent playing time. Wright will compete him Brandon Myers and even Luke Stocker. He'll be a playmaker in the red-zone so he is worth a shot later on.
Keep reading ASL's Fantasy Focus for the best sporting news and fantasy updates.