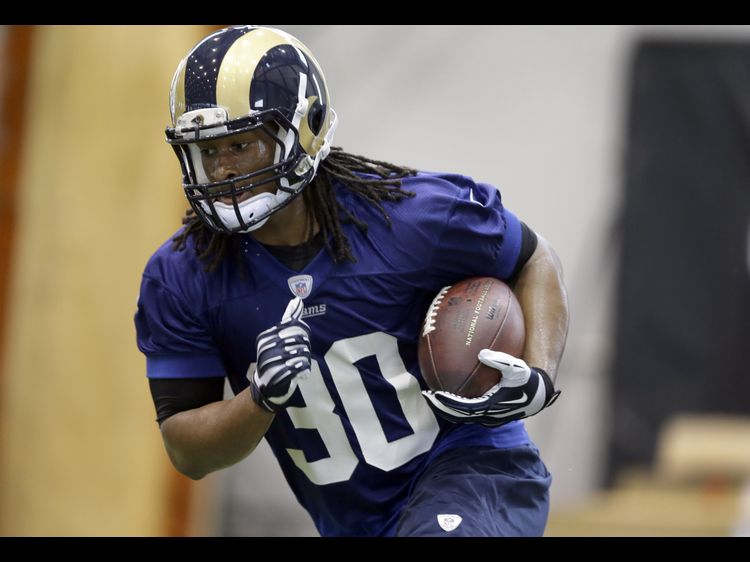 Todd Gurley
The St. Louis Rams' first round pick has been recovering from knee surgery for a torn ACL in November. Fantasy owners may be questioning why the Rams decided to invest in an injured RB, and if they should invest in Gurley too. Here's the answer: Yes. Gurley is huge risk-reward for fantasy owners. Though he has not played in an NFL game, his college stats show him to be the "complete package." During his three years at the University of Georgia, Gurley rushed for 3,285 yards and 36 TDs and received for 498 yards and 6 TDs. Gurley's overall dynamic will be a huge contribution to the Rams team. The 10th overall pick is listed as a possible PUP (Physically Unable to Perform) for training camp, but is expected to play in Week 2 of the 2015 season.
Jerick McKinnon
Jerick McKinnon will play back up to Adrian Peterson for the Minnesota Vikings. The RB missed the last five games of his rookie season to a lower back injury and has been recovering from surgery throughout the offseason. McKinnon is listed as probable, but has participated in OTAs and mini camp. Though he faces competition to be the Viking's third down back, head coach Mike Zimmer stated that McKinnon is going to be the focus RB receiver for the team. McKinnon's speed and ability to catch passes will help to support the Vikings with Peterson back in the game.
Stevan Ridley
The starting RB for the New England Patriots last season signed with the New York Jets. Though Ridley put up good stats with the Patriots during the 2012 and 2013 seasons, combining for 2,036 yards and 19 TDs, the RB parted with the team after a season ending ACL tear during the sixth game of the 2014 season. Ridley's time off of the field may extend into the 2015 season with the Jets leaning toward listing him as PUP.
When healthy Ridley can perform. Currently listed as a back up to the hot-and-cold Chris Ivory, Ridley could become a potential backfield weapon for the struggling Jets. However, a crowded Jets backfield and a questionable start for training camp could keep Ridley sidelined through the start of the season. Fantasy owners should keep an eye out for updates regarding Ridley's status, as he could be a threat after a full recovery.
RB News Watch List
Arian Foster
Starting Texan RB Arian Foster has missed multiple games due to a string of injuries. Noting that Foster has yet to play a complete 16 game season since 2012, many Fantasy owners have been questioning Foster's workload and outlook for the 2015 season. Though Texan Head Coach Bill O'Brian has stated that Foster's position and workload is secure, Fantasy owners should keep in mind that he is not the only RB in the Texan backfield. Foster is a RB1 pick when healthy, but Fantasy owners should have a solid RB2 option incase Foster misses games due to another round of injuries.
Danny Woodhead
Danny Woodhead is coming off of a broken fibula injury that ended his season last year. Appearing in OTAs and minicamp, Woodhead is expected to be running on all cylinders for training camp and the start of the 2015 season. Woodhead is the number one receiving back for the Chargers and is expected to hold his position as the go to RB for third down plays. Woodhead will be a good bye-week or RB2 option as his abilities to catch passes and find the end zone are valuable to the San Diego team.
Rashad Jennings
Rashad Jennings will continue to be the starter for the New York Giants despite a multitude of injuries that had him sidelined for five games last season. With Jennings's health a primary concern for Head Coach Tom Coughlin, supporting RBs Shane Vereen and Andre Williams are expected to take over touches and game play. However, entering his 7th season, Jennings has yet to reach 1,000 rushing yards in a season, and will most likely not meet that yardage this season. Jennings is a solid RB2 option for fantasy owners.
Joique Bell
Joique Bell is coming off of a knee and Achilles injury that has had him in recovery throughout the offseason. Though he missed the team's OTAs, Bell is expected to participate in training camp. However, though he is listed as the starting RB, the Lions have a deep backfield roster with rookie Ameer Abdullah and Theo Riddick. Pending his health and ability move down the field, Bell's starting position could be handed to one of his more talented teammates later on into the season.
Stay tuned to ASL for the best RB fantasy news all season long!