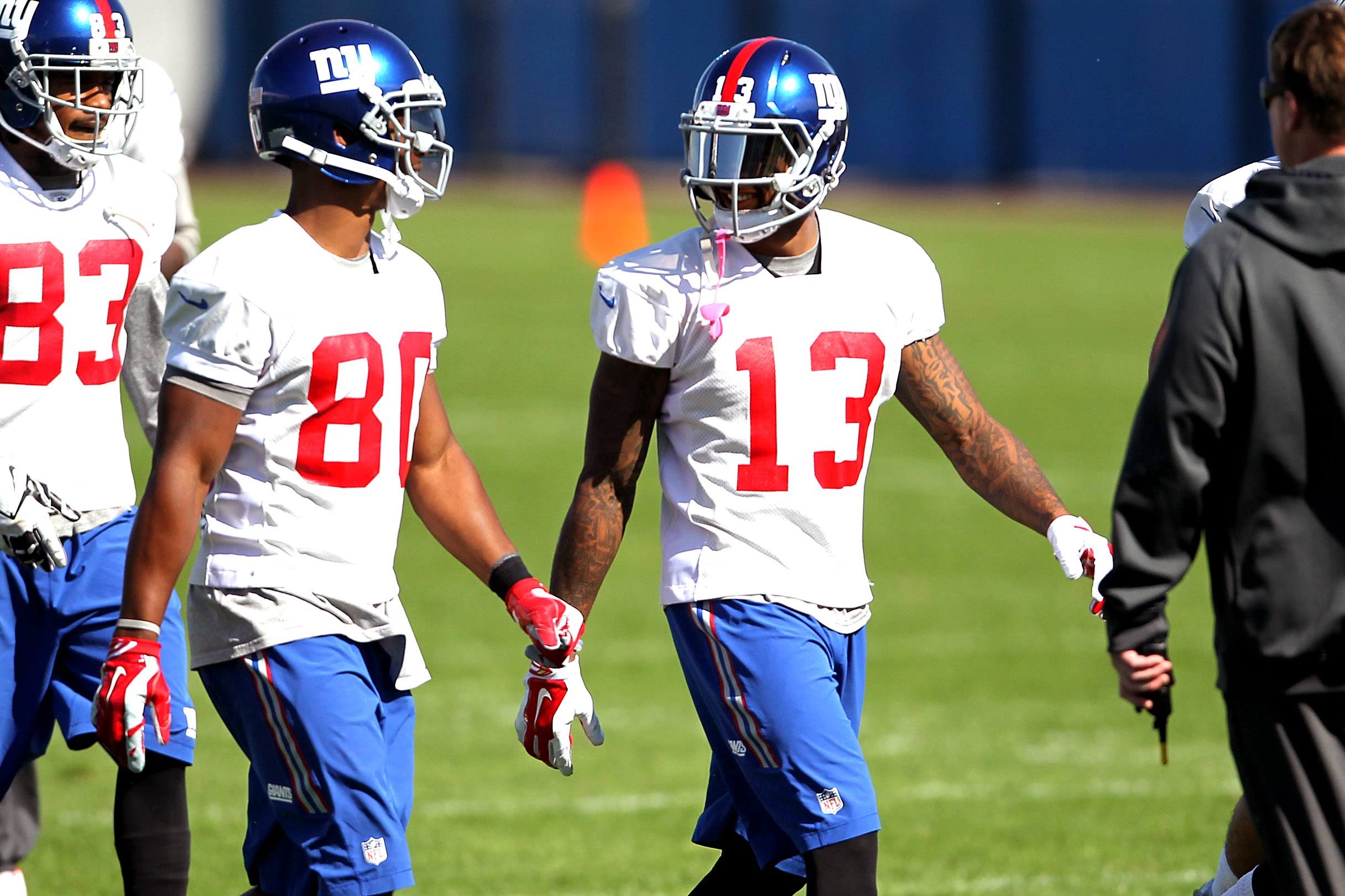 * The New York Giants won't have fantasy WR studs Odell Beckham Jr. or Victor Cruz for the duration of their minicamp. In the case of the flashy Beckham, he suffered a right hamstring injury. This is his second hamstring related injury during his time in the NFL, though the previous malady was with his left leg. That injury kept the former LSU product out for training camp and the first four games of the 2014 season. Though he is expected to participate in training camp in July, a second hamstring injury to start his second year in the NFL is a trend that could be troubling moving forward into the fantasy season. That said, Beckham won't fall outside first round of fantasy drafts this year barring a setback.
* The story is much different with Cruz, who missed the bulk of the 2014 season after suffering a right knee injury (torn patellar tendon) in Week 6. The initial rehab timetable suggested eight months. As the eight-month mark rapidly approaches, Giants head coach Tom Coughlin is taking a conservative appoach in reintroducing Cruz to training drills. Though confident in his return for the start of training camp on July 30, we'll see if Cruz is ready when New York opens the regular season against Dallas. Though a game-breaking threat during his career, Cruz is something of a risk for fantasy owners until further notice, especially since Beckham's emergence. Makes for an interesting flyer, but proceed with caution considering the severity of the injury.  
* The Bills have revamped their offense with the addition of LeSean McCoy and Percy Harvin, but much hinges on rising second-year receiver Sammy Watkins. In WR news, Buffalo's top wide out underwent hip surgery this offseason and is working his way back into practice mode. He was able to participate in some 11-on-11 drills during the first day of minicamp. Expect Watkins truly back for training camp, but expect concerns about his numbers to remain considering the new pieces and Buffalo's quarterback woes. The explosive target remains a WR2 with upside for big weeks.
*Part of the Dolphins' renewed offensive lineup includes first round selection DeVante Parker in round one. The hope is the big and fast wide receiver can provide big plays and big energy to Miami's attack. That's still the case even though he had foot surgery in June and is expected to miss eight weeks. That still puts him in for Week 1 action. The question is whether Parker can absorb enough of Miami's offense to start over veterans including Greg Jennings. The Dolphins want Parker and Jarvis Landry to serve as Ryan Tannehills' primary weapons with Jennings and Kenny Stills filling in the gap. Exciting prospect. Let's check on Parker's status as training camp starts.
* Marqise Lee's rookie season was marred by injuries. The Jacksonville wide out's second NFL summer currently has a similar feeling.  Lee is currently out with a left knee injury, which is keeping him sidelined for the Jaguars' minicamp. The good news? He's expected to be ready for training camp in July. Head Coach Gus Bradley has stressed the importance of waiting for Lee to return to practice in full health to prevent future injury. Considering his potential and importance for the AFC South doormat, patience isn't a bad thing. For now, Lee remains a late round selection in standard leagues -- and a player to watch over the summer.
Keep connected with ASL's WR fantasy news all season long!