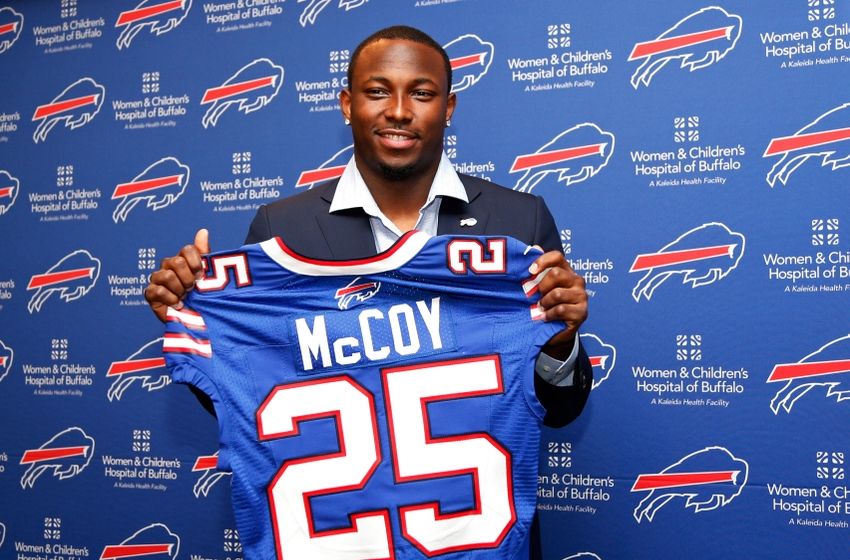 DeMarco Murray – Cowboys to Eagles: Though he will no longer have the services of what may be the best offensive line in the league in Dallas, Murray should still have a more than productive year in his new home. Because of their injury trouble last season, people seem to forget that a healthy Eagles offensive line lead Shady McCoy to a rushing crown in 2013. Murray won't get the ball 400 times like he did last season, but he should see his yards per carry go up and consistent work as a pass catcher. The former Oklahoma product will use his impressive elusiveness to thrive in Chip Kelly's shifty system in mostly traditional running situations. He's well worth your early second-round pick. Stay tuned to RB news for updates concerning Murray throughout the season.
Frank Gore – 49ers to Colts: This move may have saved Gore's career in terms of fantasy production. He will largely benefit from the effectiveness of the Indy passing game. Carlos Hyde was knocking on the door for the starting job last season despite Gore keeping it all year. Though the 32-year-old did eclipse the 1,000-yard mark for the eighth time, he only scored four touchdowns. Expect more red zone chances with the Colts high-end offense. The question is how much workload will come his way. Dan Herron isn't much of a threat, but the Colts may plan to limit Gore at times during the season so he can remain fresh in January. His age makes him too risky to draft as a starter in most formats, but works for those with Flex spots.
Ryan Mathews – Chargers to Eagles: Mathews will share touches with DeMarco Murray and Darren Sproles for the Eagles this season. Both are better backs, at least with their specific niches in mind. Now, adding Mathews might prove hugely successful for all involved because he adds a different dimension to the run game with his one-cut style of play and the Eagles run a ton. However, he won't be a guy to be too excited about fantasy-wise because he won't be the guy in Philly unless Murray goes down with injury. Even then, Sproles exists. Better than a handcuff, but don't view him as a fantasy starter either.
Darren McFadden – Raiders to Cowboys: While he's probably more bust than boom, McFadden's situation is interesting. No McFadden means Joseph Randle runs away with the starting job. As it stands now, Randle likely wins the gig. That said, it would be smart to draft McFadden if he's still there at the 100th pick or so because there's an off chance that he may win the job. The risk-reward might be worth if the former Raider gets the gig behind arguably the best offensive line in football. Of course, McFadden's injury suggests even the good times won't last for long.
For the most comprehensive RB fantasy news, trust ASL!