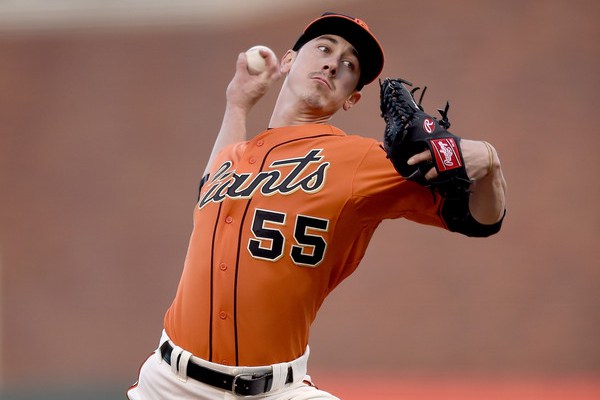 Fantasy Waiver Wire Pickups - 
Tim Lincecum - SP, San Francisco Giants 
Don't look now, but Tim Lincecum is looking a lot closer to the pitcher who won consecutive Cy Young awards, which makes him one of the top fantasy waiver wire pickups. In his last two starts, he tossed 14 scoreless innings, allowing only six hits and fanning 12. Overall he's sporting a 2.00 ERA over six starts, four of which have been quality. Lincecum has done some re-strategizing this season after three straight years with an ERA over 4.00. He's using his ample repertoire to find new ways to get hitters out, throwing his changeup more and fastball less. MLB fantasy owners shouldn't count on these kinds of performances all year, nor should they predict a full-time return to Cy Young level dominance. But if you need a starting pitcher (quite possible if you were among those banking on Alex Cobb and Drew Smyly to return) you could do worse than taking a chance on a former ace working to reinvent himself.
Torii Hunter - OF, Minnesota Twins
During the offseason, Torii Hunter returned to the franchise where he spent the first 12 seasons of his career. The Twins have been surprisingly competitive in the AL Central and so has the 39-year-old outfielder. Hunter enjoyed couple of big games last Friday and Saturday, going 7-for-9 with two home runs, five RBI and five runs scored. This red-hot stretch boosted Hunter's overall numbers on the season to a .287/.331/.478 slash line with five homers and 19 RBI. Hunter has done a fair job fending off age-related decline and could make a decent pickup off of your fantasy waiver wire. He's posted double-digit home run totals for 14 straight seasons and failed to drive in at least 75 runs just once over that span. In what could be his swan song, Hunter seems a sure bet to reach those benchmarks once again along with a .270+ batting average. MLB fantasy owners seeking outfield depth or simply wishing to ride a hot hand should give Hunter a look if still available.
Andrelton Simmons - SS, Atlanta Braves
Fantasy owners are often on the lookout for productive middle infielders, and if Braves shortstop Andrelton Simmons is available in your league you might consider adding him to your squad. Before going hitless on Sunday, Simmons had strung together an eight-game hitting streak. He's currently hitting .282 with three homers, 16 RBI and a .346 OBP. That is certainly solid production at the position, and at only 25 years of age he only stands to get better. If you're not satisfied with what you're getting out of your current shortstop, Simmons might be your guy.
Jonathon Niese - SP, New York Mets
Niese has been a fairly reliable member of the Mets rotation the past three seasons and he is off to a superb start in 2015. He's thrown four quality starts in six outings and has allowed more than one run just once so far. Overall, he's collected three wins and is working a 1.95 ERA. The ERA will undoubtedly rise (see 3.83 FIP and 1.43 WHIP) but it's a decent bet it will remain below 4.00. With the Mets playing some much improved ball this year, Niese should benefit substantially in the win department as well, enhancing his appeal to the MLB fantasy crowd as one of the better fantasy pickups available.