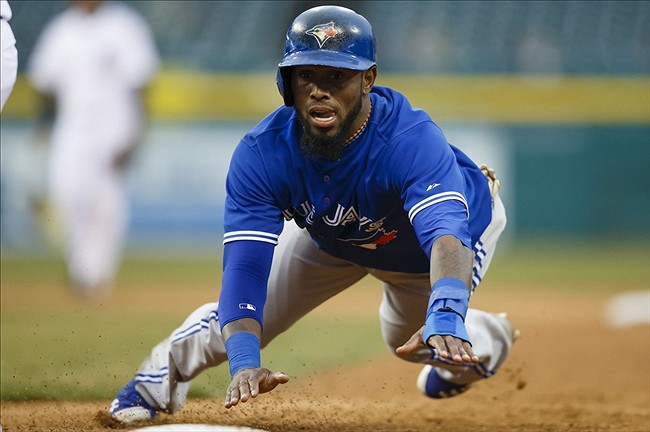 Fantasy owners have know for years that owning Jose Reyes is a roll of the dice
Blue Jays shortstop Jose Reyes has been a frustrating player to his real-life clubs and MLB fantasy owners alike. Last week Toronto announced that the four-time All-Star would be placed on the 15-day DL with a cracked left rib he suffered on April 12. After trying to play through the injury it was back to a familiar place for Reyes, the disabled list and our fantasy injury updates list.
Any fantasy baseball player knows that Reyes has an extensive injury history and they have to constantly check injury updates before making decisions. He's averaged 115 games played over the past six seasons, due in large part to a torn calf muscle that limited him to just 36 games in 2009 and an ailing ankle that kept him out of 69 contests in 2013. 
In spite of his unreliable health, Reyes has remained appealing to MLB fantasy owners due to his combination of speed and hitting prowess. He captured the National League batting title in 2011 with an average of .337. He led the NL in stolen bases from 2005-2007 with 60, 64, and 78 swipes, respectively. The latter two totals were enough to pace both leagues. Reyes has grown considerably more judicious on the base paths since then (natural with age and injury) but stole 30 bases as recently as last season.
When you draft a player like Reyes, it means that you have to stayed glued to the fantasy injury updates after every game he plays. As usual, the shortstop was a risk/reward proposition heading into the 2015 fantasy season. Many rankings placed him within the top 50 before the draft. If he could stay reasonably healthy as he did last year (143 games played), he seemed a good bet for a .280+ average and around 30 steals. Reyes rewarded that faith by getting off to good start in 2015. On April 16 he was batting to a .324/.350/.405 slash line. He began sliding from there and by the time he landed on the DL that line had slipped to .250/.266/.300.
Reyes owners will simply keep their fingers crossed, monitor his injury updates and hope that he'll be ready to return after 15 days. They will also hope that his recent slumping was chiefly due to this injury and that once healed he will reassume the form he showed in the first couple weeks. Seemingly minor injuries have snowballed for Reyes in the past, so he will look to avoid that kind of extended setback.
For the latest MLB and NFL injury updates, stay tuned!