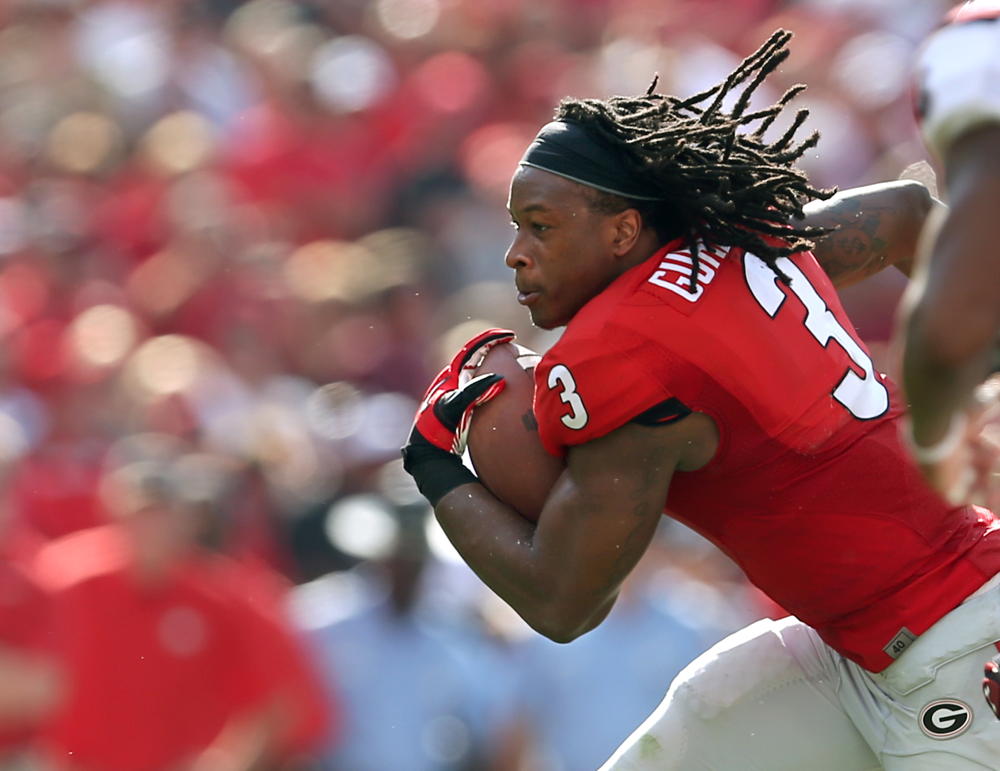 The Miami Dolphins are looking to draft Georgia RB Todd Gurley with the 14th overall pick in the first round, but it's probably about a fifty-fifty chance that he's still on the board. Gurley is still recovering from a torn ACL that he suffered last November, but many pundits believe he is head and shoulders above all the other running backs coming out of this year's draft.
Gurley would fit well in Miami and most likely be the feature back for the Dolphins, but it would NOT be a shock if a team like the Jets or the Bears grabbed him first. The Georgia running back is coming off a monster season at Georgia, and will most certainly be the first RB selected in the draft this year. Gurley ran for 911 yards and 9 touchdowns in just 6 games on the field before his knee injury. He ran just under 152 yards per game on 7.4 yards per carry, and could easily be a major piece in an organization's offensive unit (not to mention a potential NFL fantasy stud).
If drafted by Miami, the fantasy football focus outlook would be that Gurley would have to fight 24-year-old Lamar Miller for the starting spot, but would most likely win the job outright somewhere in the middle of his rookie season. Gurley could get some pretty solid running lanes with defenses more focused on Ryan Tannehill, Kenny Stills, Greg Jennings and the passing game. However, there are a few teams whose necessity for a running back could push them to draft Gurley, starting with the Jets.
The New York Jets upgraded their backfield with the addition of Stevan Ridley, but since he's more of target in the passing game, they could really use Gurley as an upgrade from Chris Ivory. It not exactly breaking fantasy news that Ivory was a major disappointment down the stretch in 2014, as he scored just 1 TD in the last 8 games of the season, while failing to break 75 yards in any of those games. Gurley's running style would help them with consistency in their offense, and he would allow New York's QB (Geno Smith or Ryan Fitzpatrick) much more time in the pocket to make good decisions.
Gurley could also severely improve the Jaguars offense. According to Rotoworld, the Jags could potentially trade their 3rd overall pick for multiple early picks, and look to draft the Georgia running back as well. Gurley would be able to provide young QB Blake Bortles with some solid contrast to a hopeful passing game, and allow him to find newly acquired target TE Julius Thomas open much more often than expected.
Whether Todd Gurley makes it past the first 13 picks in the draft is a mystery at this point, but the Miami Dolphins have expressed much interest in the prospect, and his addition to the organization could prove to be beneficial for QB Ryan Tannehill and company.
Keep reading for the most up to date NFL player news!