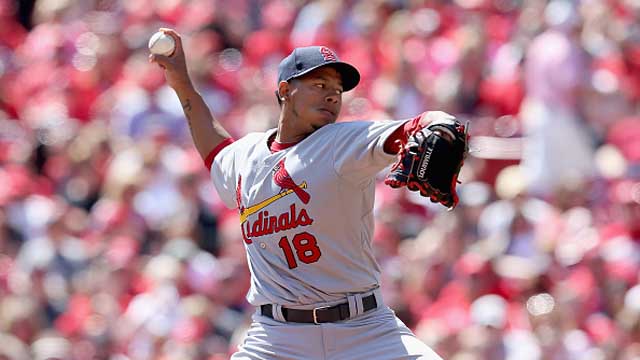 Fantasy Waiver Wire Pickups - 
Carlos Martinez - SP, St. Louis Cardinals
Cardinals right-hander Carlos Martinez has put up three consecutive quality starts and is one of the a hottest fantasy pickups. During those starts, he's thrown 19 total innings, allowing just 11 hits and three earned runs while striking out 20. His most recent start last Friday was particularly eye-catching: he held the Brewers scoreless over seven innings, giving up four hits and collecting eight strikeouts. Martinez is just 23, and with the Cards' successful history of developing young pitching, it's easy for MLB fantasy owners to get excited. Keep in mind, however, that St. Louis plans to limit their young arm to around 150 innings. Regardless, if you could use some starting pitching the breakout potential here is hard to ignore, and you can make contingency plans if needed as he nears his innings limit.
Juan Lagares - OF, New York Mets
Though Lagares garners a lot of attention with his glove, he's also gotten off to a solid start at the plate and is among this week's top waiver wire pickups. In 20 games he's batting .316 with a .329 OBP. On Monday night, he went 2-for-4 with a run scored in the Mets' 3-1 victory over the Marlins. He won't offer much in terms of power or run production, but Lagares should have his share of scoring opportunities while hitting in the second spot of the Mets' lineup. He's crossed the plate 12 times so far. If you could use an extra outfielder and are in a deeper league, Lagares might be worth some consideration.
Zack Cozart - SS, Cincinnati Reds
The Reds shortstop has been flexing some power muscles in the opening weeks of 2015, swatting four home runs in his first 19 games. He's also hitting for a respectable .300/.333/.557 slash line over that span. As any MLB fantasy owner knows, offense can be a serious rarity at the middle infield positions, which makes Cozart all the more appealing if he's still sitting in your league's free agency pool. Manage your expectations, however: over the past three seasons Cozart has posted a far more pedestrian .241/.280/.362 line while averaging ten homers. But if you're thin at SS you can certainly scoop him up if you want to see how long he can swing a hot bat.
Chris Young - OF, New York Yankees
Young is off to a surprisingly good start this season and is working himself into regular playing time with the Yankees. In 18 games he's hitting .296 with a .356 OBP. He has been a legitimate run-producer for the Bronx Bombers as well, with four home runs and 10 RBI currently to his name. It's a bit difficult to fully endorse Young since the veteran Carlos Beltran is being given a rather long leash despite his .167 batting average. He might not be in the lineup every day, but if he keeps hitting like this Young will get his at-bats. Right now you could do worse for some outfield depth.