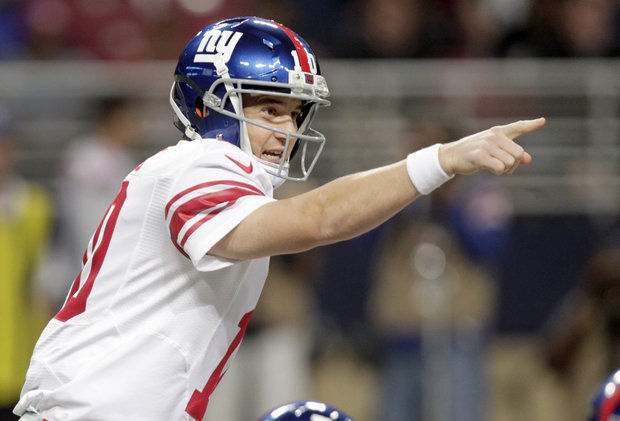 Eli Manning wants to limit his turnovers for the upcoming season and his goal is very much in reach. Manning isn't among the top fantasy football keepers, but he had a very successful season, posting a 2.14 to 1 TD/Int ratio and there's no reason to doubt that can improve upon those numbers and put himself in the conversation for an MVP award.
The Giants offensive unit has been significantly upgraded and will alleviate some stress for QB Eli Manning. New York just recently added pass-catching RB Shane Vereen whose contributions helped the Patriots secure the team's 4th Super Bowl title. Vereen's presence in the backfield will provide a safety outlet for Manning to turn to in high-pressure situations. 
In addition to adding Vereen, the Giants will also benefit from the return of WR Victor Cruz if he can get healthy. Cruz has proven his ability to create separation and make big plays, as he broke 1,000 receiving yards in 2011 and 2012 (and reached 998 in 2013 in 14 games) and registered 19 total touchdowns. Following surgery to repair a torn patellar tendon, his ability to once again play at an elite level is questionable, but with a strong recovery, he could blow up for another strong year.
Manning will also be able to turn to TE Larry Donnell who could be one of this year's fantasy sleeper picks. Donnell is not afraid to catch the ball over the middle and can be decent target in the red zone. He flashed signs of that potential during his 3 touchdown performance Week 4 in New York's road win against the Washington Redskins. With the WR corps calling for most of opposing defenses' attention, Donnell should benefit from the lack of attention.
The last important piece to Eli Manning's successful season is the most important player in this offensive unit. Odell Beckham. Beckham exploded for a rookie season campaign that earned him the 2014 NFL Offensive Rookie of the Year award. The 22-year-old freak athlete went for 1,305 receiving yards and 12 touchdowns on 91 receptions. The stats prove to be very impressive, and even more so since he only played in 12 games, and he broke 100 yards in 7 of them.
With Cruz and Beckham operating in the same system together for the first time, Eli Manning should have little trouble finding open receivers. It's not out of the question for Manning to keep his interceptions in single digits as he has suggested he can do, so long as his targets stay healthy and focused.
For the best NFL fantasy sleepers, keep reading ASL all season long!