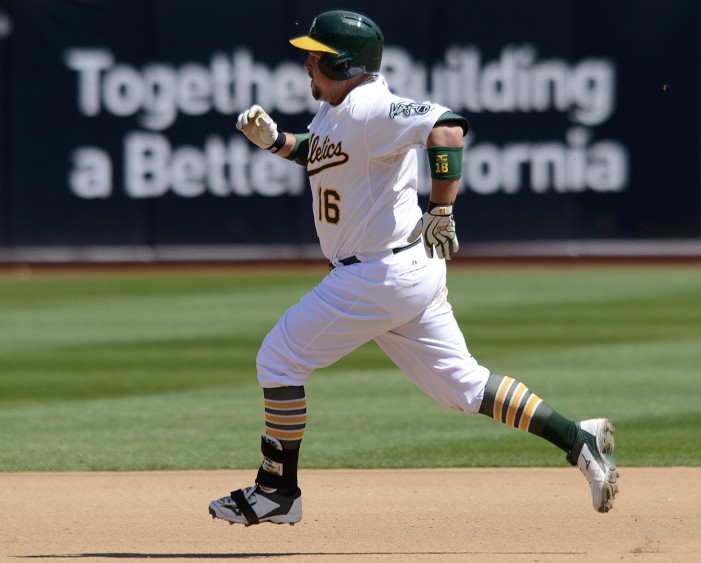 Start
Billy Butler- Oakland Athletics
Fantasy Sit Start
There's no mystery in Oakland when it comes to a sit or start decision with Billy Butler. He's off to a prolific start batting .387 in 31 at bats for the Athletics He's knocked in five RBI, including three off a home run knock against the Astros. Butler obviously will not be racking up the stolen bases for your team, but could provide solid contributions to the other four categories in standard 5x5 leagues. Thus far, Butler has strictly been played as a DH, but the A's don't have an interleague series until mid-June. He should be seeing plenty of plate appearances and opportunities in an undervalued Athletics lineup. The slugger is available in approximately 38% of ESPN leagues.
C.J. Wilson- Los Angeles Angels
Ridiculously, Wilson is still available in 56.6% of ESPN fantasy leagues. Wilson had his fair share of question marks heading into the season, and struggled mightily in his last start against the Royals, allowing seven runs (six earned) in 5.2 innings. However, Wilson only allowed one walk in his outing against the Royals and had a stellar first outing of 2015. On April 7, Wilson pitched eight shutout innings of two hit ball. Sure, his first two starts are extremely polarizing. But, his third start comes next Saturday against the mediocre Astros. Wilson certainly will be looking for a bounce back start, and you should have the faith in him for a fantasy start on your lineup.
Sit
Dellin Betances- New York Yankees
Any person I chose to "sit" will come off as a knee-jerk overreaction this early in the season, so take these with a grain of salt. But, in The Bronx it is obvious that, at least for now, Andrew Miller is the Yankees closer. Betances has struggled with his command early, handing the job to Miller (not to say Miller hasn't pitched lights out). Betances has walked six in 3.1 innings. Monday he did work out of a jam, earning himself a hold, but not before putting himself in that jam with two hits and two walks in the inning. Betances likely will turn this early slump around, but until proven otherwise Betances could be earning himself a spot on your bench.
Curtis Granderson- New York Mets
Granderson put in a great spring training this year. He had a lot of promise heading into 2015, and I had a lot of faith in him to open the season hot. But, he's fell on his face out of the gate, batting .056 in 16 at bats. He tallied one stolen base and has scored four runs. He's walked a league leading nine times, but walks are worth nothing in the standard 5x5 fantasy scoring format. Granderson's percentage owned in ESPN leagues has dropped over 15% in the last seven days, and rightfully so. Granderson got a day off, likely to get his head straight, but for now he is not worthy of a start and barely a roster spot. Keep a close eye on Granderson over the next few weeks for improvement, but for now avoid…heavily avoid.
Stay tuned to ASL for the best fantasy football start and fantasy baseball start info!