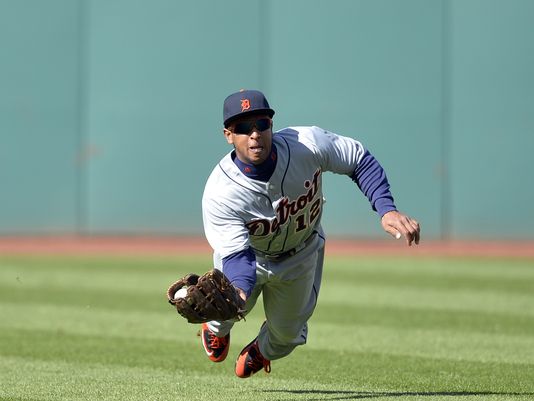 Fantasy Waiver Wire Pickups -
With only a week in the books, you're probably still getting a feel for your MLB fantasy squad. But if you're the proactive type, here are a few waiver wire pickups you might consider to stay ahead of the competition.
Anthony Gose - OF, Detroit Tigers
The young outfielder, traded from Toronto in the offseason, is off to a fast start in Detroit. He has gone 9-for-23 in his first five games with six runs scored, a home run, five RBI, and a stolen base. Though he didn't exactly set the world on fire during his time with the Blue Jays (.633 OPS in three seasons), he was a well-regarded prospect and still has plenty of room to improve at 24 years old. Though you shouldn't expect him to maintain his current pace, batting atop a stacked Tigers lineup should continue to offer him plenty of opportunities to score runs and show off his speed.
Roberto Perez - C, Cleveland Indians
With starting catcher Yan Gomes out 6-8 weeks with a knee sprain, backup Roberto Perez will assume the role for Cleveland. Perez exhibited some solid offense in limited action last season, hitting .271 with five doubles over 29 games. He's enjoyed success in the early going this year as well, with a home run and three RBI in his first eight plate appearances. His plate discipline can use some work (26 strikeouts in 85 at-bats in 2014), but Perez will now have the chance to show what he can do on a regular basis. Gomes owners or those seeking depth at catcher should give Perez a look.
Jed Lowrie - SS, Houston Astros
Lowrie showed some pop in the opening week of 2015, belting two homers in his first six games back with the Astros after returning to the team as a free agent. That's already a third of his total from last year, and although you shouldn't bet on Lowrie turning into a bona fide slugger or anything, he is only two years removed from hitting .290 with 15 HR and 75 RBI for the A's. With offense always at a premium at the middle infield spots, it might be worth your while to take a flyer on a player like Lowrie who's still widely available throughout leagues.  He could prove to be one of the better early season fantasy pickups.
Archie Bradley - SP, Arizona Diamondbacks
Bradley had a major league debut to remember, limiting a potent Dodgers lineup to one hit over six innings, allowing no runs and striking out six as well. His youth (22 years old) and upside make him an appealing commodity, but he isn't one of those mandatory fantasy pickups. Bradley has exhibited some lack of control, walking four and needing 112 pitches to make it through those six innings. He earned a rotation spot on the strength of his Spring Training, posting a 1.61 ERA and 1.16 WHIP over six spring appearances. Fantasy owners in deeper leagues willing to roll the dice on a back-end rotation piece would do well to pick up Bradley.