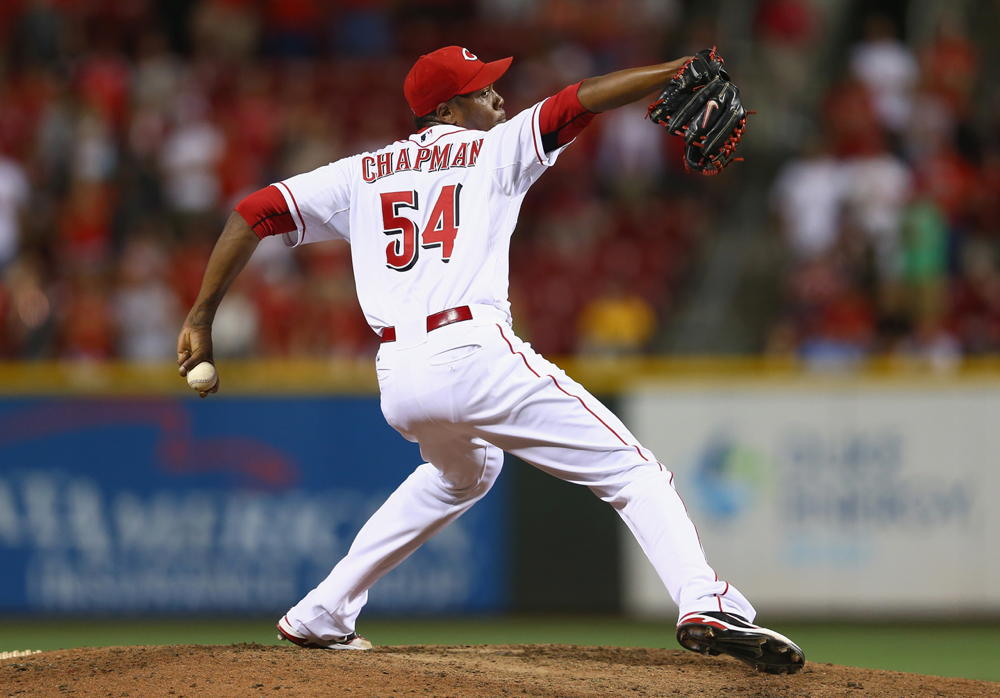 1. Aroldis Chapman - Cincinnati Reds
Chapman's flamethrower of an arm has made him one the game's finest closers, and 2015 should once again see him top the list. He notched 38, 38, and 36 saves in the previous three seasons, respectively. Chapman's fantasy value, of course, comes not just in the consistent stream of saves he provides but also in the astounding rate at which he strikes out opposing hitters. Last year's ethereal 17.7 K/9 was best among relievers by a wide margin, and at 27 years of age there's little reason to think his 100-mph fastball will be any less relentless this season. Drafting closers is always tricky business, but you can select Chapman with confidence in the fifth round and onwards.
2. Craig Kimbrel - Atlanta Braves
Kimbrel shares much in common with Chapman: he's young, throws very hard, and has already proven his ability to thrive in the closer's role. He's led the National League in saves in all but his debut season, and the 50 saves he secured in 2013 topped both leagues. With the Braves looking weaker this year the save opportunities might not be as abundant, but Kimbrel will still get plenty of work and rack up strikeouts (95 Ks in 62.1 IP in 2014). He should not be left on the draft board much longer than Chapman.
3. Greg Holland - Kansas City Royals
Since his first full season as the Royals closer in 2013, Holland has rapidly ascended into the upper echelon of relievers. He saved 47 and 46 games in the past two seasons and was a major component of Kansas City's improbable run to the World Series. In his tenure he's maintained a WHIP under 1.00 and at least a 13.0 K/9 rate. The Royals generated 65 save opportunities in 2014, the sixth-most in MLB, and Holland will likely continue to receive steady work in the new campaign. As with the previous two pitchers on this list, you can justify picking Holland in the 5th round or later of a 12-team draft.
4. Mark Melancon - Pittsburgh Pirates
Melancon has been a quiet revelation the last two years working out of the Pirates bullpen, flourishing in multiple roles. He took the closing reins from a struggling Jason Grilli in June of last season and didn't look back, earning 33 saves while posting a .873 WHIP and a strikeout per inning. Pittsburgh's 72 total save opportunities were tied for the most in baseball in 2014, and their closer should remain busy this year finishing games for what hopes to be a very competitive team. Target Melancon in round 7 or later.
Sleeper: Brad Boxberger - Tampa Bay Rays
The closer landscape gets decidedly murkier beneath its top tier. If you're inclined to roll the dice a bit on a talented reliever with upside, look no further than the Rays' Brad Boxberger. Manager Kevin Cash has said the 26-year-old right-hander will fill in for about a month as incumbent closer Jake McGee recovers from elbow surgery. Boxberger put up some great numbers in 64.2 innings last season, striking out 104 batters and surrendering only 17 earned runs. He should offer significant value in April and potentially beyond. Though McGee is no slouch, Boxberger might be given the chance to hold onto the closer's job if he impresses, especially on a young squad in transition like Tampa Bay. Owners could consider taking him as a sleeper candidate with one of their last couple draft selections.