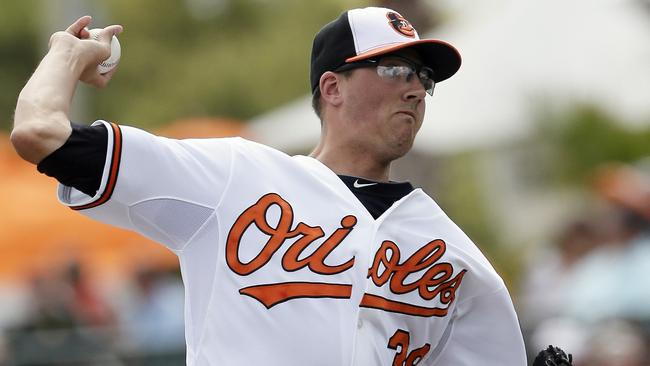 Season-ending pitching injuries have piled up recently, including two suffered by players we recently named as potential fantasy baseball sleepers. Blue Jays hurler Marcus Stroman underwent a procedure to repair a torn ACL, while Tommy John surgery will snuff out Zack Wheeler's hopes of pitching for the Mets this season. Fortunately for fantasy owners, there are still plenty of appealing starters who could provide unexpected boosts to their rotations.
Kevin Gausman - Baltimore Orioles
Starting 20 games for the O's in 2014, Gausman put up respectable numbers within a challenging division in his first extended action at the Major League level. He surrendered less than a hit per inning on his way to 7 wins and a 3.57 ERA. His youth (age 24) and fastball (topping out near 100 mph) make him an intriguing prospect for fantasy owners. If the walks come down a bit (3.0 BB/9 last year), he has a shot to reach even greater heights this season and is worthy of a late-round flyer.
Drew Pomeranz - Oakland Athletics
Leaving the rarefied air of Coors Field for spacious Oakland Coliseum paid dividends for Pomeranz last year. Though he started just 10 games for the A's, they were promising ones in which he put up a 2.58 ERA over 52.1 IP and held opposing batters to a miniscule .205 average. With the departures of Jon Lester and Jason Hammel, the 26-year-old lefty will be counted on for more innings in 2015 and is primed for the taking with one of your last few draft selections.
Shane Greene - Detroit Tigers
Imported by the Tigers from the Bronx this offseason, Greene quietly did a very admirable job filling in for a plethora of injured Yankees starters in 2014. Though his stuff doesn't pop quite as much as some of the other pitchers on this list, Greene throws four different pitches capably and posted a strong 9.3 K/9 rate last season. Moving out of a hitter's park and support from a more potent offense should help him improve significantly on last year's 5 wins and 3.78 ERA.
Noah Syndergaard - New York Mets
A legitimate fantasy alternative to Wheeler may be the man who could replace him on the Mets' staff. Scouts rave about Syndergaard's high-90s fastball and all-around overpowering stuff, which helped him rack up an impressive 145 Ks in 133 IP for Triple-A Las Vegas last year. Even if the Mets don't break camp with the 22-year-old in their rotation, it's a good bet he'll be first in line to receive a big league call-up. Though his control needs some refining, Syndergaard will likely offer some immediate punch in the strikeout department whenever he makes his debut. Owners looking to get ahead can stash him with a late draft pick.