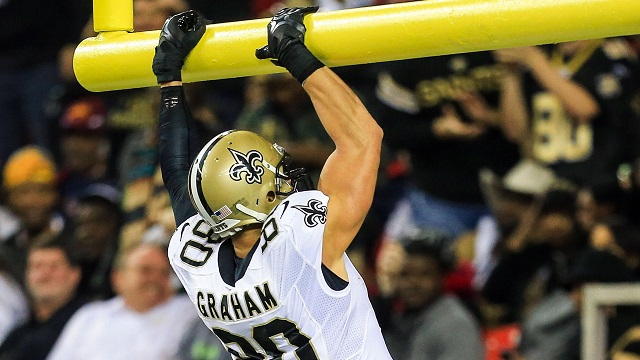 TE Fantasy Football News
One of the most impactful trades of this offseason was fantasy TE beast Jimmy Graham being shipped from the New Orleans Saints to the Seattle Seahawks. The Saints exchanged Graham for center Max Unger and the Seahawks' first-round pick in the 2015 NFL Draft.
It's not like the Seahawks needed much help to begin with, but having a huge red red zone target will make Seattle quarterback Russell Wilson even more dangerous. Wilson hasn't had that elite pass-catching weapon during his tenure with the Seahawks. Adding Graham to an already potent offense makes the Seahawks a prime contender for another trip to the Super Bowl.
Now let's slow down a bit and lower some expectations for Graham and the Seahawks. During his time with the pass-happy Saints offense Graham caught 386 passes for 4,752 yards and 51 touchdowns in his four seasons. Graham will add some much-needed help on the red-zone offense and stretch the field out wherever he's placed, but he won't produce those gaudy numbers like he did for the Saints.
The Saints obviously want to focus on other things except offense by making a move like this. New Orleans had one of the worst defenses in the NFL by numbers. Now that the Saints have acquired an additional first-round draft pick they can take two defensive players in the 2015 draft.
Saints fans shouldn't panic too much even with this loss of Graham. The offense will still be above-average with Drew Brees at the helm and Sean Peyton calling the plays. Max Unger is a terrific offensive center and Saints fans should be happy to have him – we know Brees will be. With the Saints re-signing Mark Ingram and gaining a great offensive lineman, maybe we are seeing a shift in emphasis from passing to running.
Only time will tell how this trade pans out. As of now we give the edge to the Seahawks simply because this trade makes so much sense for them. They get an all-pro tight end for Wilson to throw to and some pressure taken off Marshawn Lynch and the run game. This will be an exciting team to watch next season.
For the most comprehensive fantasy football TE news, keep reading ASL!