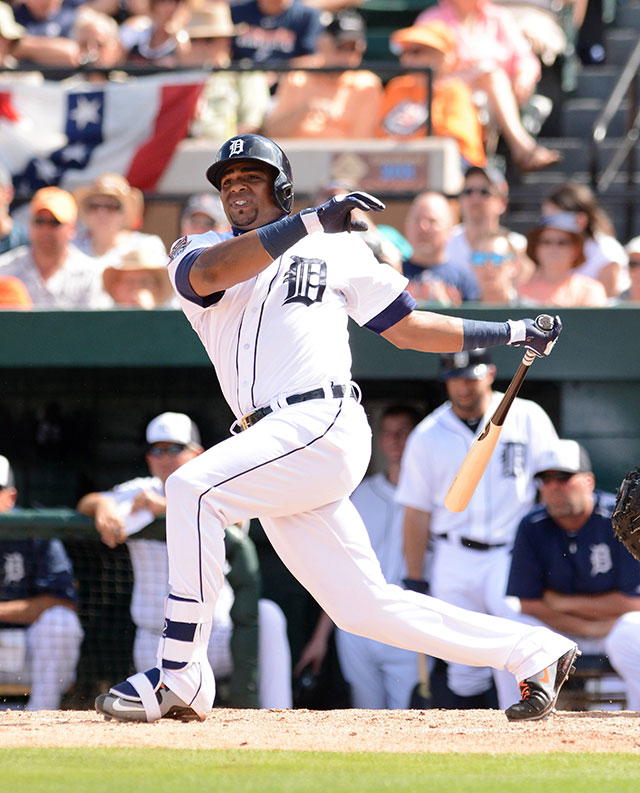 Yoenis Cespedes - Detroit Tigers
For the past three years, the Cuban slugger's MLB fantasy reputation has basically exceeded his on-field performance. Despite a pair of electrifying showings in the Home Run Derby, Cespedes' career high came in 2013 with a solid, yet unspectacular 26 round-trippers. His OPS has dipped from .861 during his debut season to .751 last year. Cespedes doesn't set himself apart enough in any area to make him worthy of one of your earlier draft selections. Consider Starling Marte instead. The young Pirates outfielder posted a .356 OBP last year in his second full season, has stolen 30+ bases the last two campaigns, and is a good bet to continue improving.
Troy Tulowitzki - Colorado Rockies
Is Tulo the best shortstop in baseball? Absolutely... when he's on the field. And unfortunately, that's been all too rare an occurrence for the Rockies star. He put up a career-best .432 OBP last season but missed 71 games in the process. Tulowitzki has only played an average of 106 games over the last five seasons. In two of the last three seasons, he has failed to exceed 100 games. The MVP-level talent is undeniable, but it's hard to justify such a gamble with a prime draft selection. Someone in your league will use their first pick on him. Make sure that isn't you. Turn to Ian Desmond or Starlin Castro instead if you want an upper-tier shortstop. An Erick Aybar type would also make a serviceable value choice in the later rounds.
Dee Gordon - Miami Marlins 
The speedy second baseman intensified his fantasy buzz with a breakout 2014, leading both leagues with 12 triples and a staggering 64 stolen bases. Traded to Miami in December, Gordon will hope to score plenty of runs leading off the Marlins' improved lineup. However, he struck out in over 16% of his plate appearances last year and seemed to run out of steam, his OBP dropping to .300 in the second half. He'll be hard-pressed to repeat last season's tremendous numbers on the base paths unless he exhibits improved plate discipline. At one of the thinner positions, you might be better off waiting and taking a capable alternative with some upside like Kolten Wong rather than jumping early on Gordon.
Jose Abreu - Chicago White Sox
The reigning AL Rookie of the Year more than earned that distinction in 2014, swatting 36 home runs and driving in 107 runs with a .314 average for the White Sox. He'll likely be a strong fantasy performer once again, but some projections have him ranked as high as a top 10 pick, which may be a bit overeager for a player who is still beginning only his second MLB season. Just seven of his homers came after the All-Star break, which might suggest to fantasy owners that he could come back down to earth somewhat in 2015. Paul Goldschmidt and Edwin Encarnacion should be taken before him, and you'll have a variety of solid options at 1B throughout the draft.