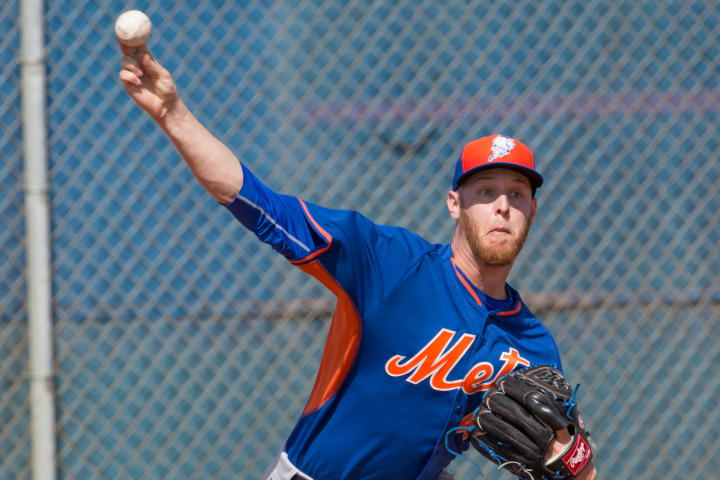 Zach Wheeler - New York Mets
During his first full season in the majors, Wheeler posted a 3.54 ERA with 187 strikeouts in 185 innings. Wheeler showed some encouraging signs last season, possessing a fastball in the mid 90s and at times reaching 98 MPH. Wheeler has a plus curveball and is adding a slider to his repertoire. He posted at 54 percent ground ball rate, so he does a good job of keeping the ball in the park. Wheeler is 24-years-old and has not had a major injury thus far, so look for him to reach 200 innings without an innings limit this season. He can be a middle of the road starter for your fantasy team so try to grab him in the middle rounds of your draft.
Carlos Carrasco - Cleveland Indians
In 2014, Carrasco only pitched 91 innings as a starter. In that sample size, however, he had 14 starts with a 9.99-strikeout rate and a 1.98 walk rate. His fastball averaged 95.3 MPH last season and his velocity will continue to progress as he returns to full health. In 2015, Carrasco will look to grow as a pitcher and maybe surprise some people as a dark horse All-Star candidate. Carrasco is one of the hardest throwing pitchers in the American League and hitters had a tough time catching up to his fastball last season. Drafting Carrasco in the mid rounds of your draft makes sense because he is one this season's top fantasy baseball sleepers.
Marcus Stroman - Toronto Blue Jays
Stroman debuted for the Blue Jays last May and looked impressive during 2014 posting a 3.65 ERA and 1.17 WHIP in 130 innings. He posses a six pitch repertoire that continues to get stronger by the day. Although he was roughed up in a few outings last season, Stroman has the potential to put up sub 3.00 ERA. His fastball hits the mid 90s and has a sinker that froze hitters last year. Stroman's potential is through the roof. In most leagues he is falling to the late rounds of the draft and would be a steal for your team.