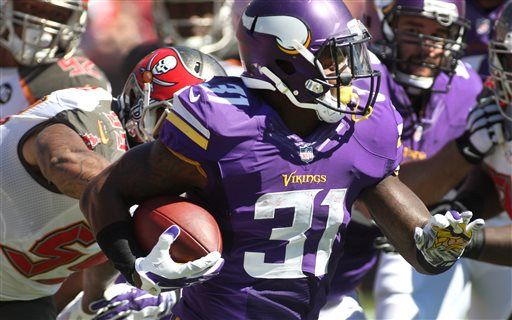 RB Fantasy Football News -
There will be no shortage of uncertainty when training camp kicks off in Minnesota for next season. The Vikings faithful are clearly behind fantasy RB stalwart Adrian Peterson and would love it if the former NFL most valuable player would rejoin their squad.
The Vikings also have an emerging young back in their repertoire who can make RB news by the name of Jerick McKinnon. McKinnon is recovering from back surgery, but it sounds like he will be ready for the start of the season.
Scenario 1 – Vikes get AP back, McKinnon goes to backup
This scenario would be the best for Viking fans, and essentially best for anyone that loves watching a dominant powerful running back destroy and dismantle his opponents. If Adrian Peterson returns to the Vikings he will clearly regain his starting gig as the Vikings running back. If this were to happen, fellow running mate Jerick McKinnon would assume the backup role with the Vikings.
This would be a deadly one-two punch coming out of the backfield for the Vikings. Adrian Peterson has it all – he's fast, powerful and can cut on a dime. While McKinnon, a college quarterback turned running back, was brought on with the thought that he could slowly learn the running back position. He quickly exceeded expectations and wound up averaging 4.8 yards a carry. With these two in the backfield for the Vikings, opposing defenses would have to prepare heavily for a vaunted running game that they would bring to the table.
Scenario 2 – AP out in Minnesota, McKinnon gets starting gig
This scenario, yet not as tasty as the first one, would still be okay for the Vikings. If Peterson was not able to come back to the Vikings, Jerick McKinnon would obtain the starting spot. It's good to note that McKinnon has been going quite well thus far for the young running back. With Matt Asiata becoming a free agent and Adrian Peterson's status still cloudy, McKinnon would likely cement the starting role in Minnesota.
It is crucial for McKinnon to get healthy with such a big role waiting at his doorstep. It is not certain that Adrian Peterson will be back with the Vikings next season so McKinnon must prepare himself like he is going to be the starting running back in Minnesota.
For the most up to date RB fantasy news, keep reading ASL!