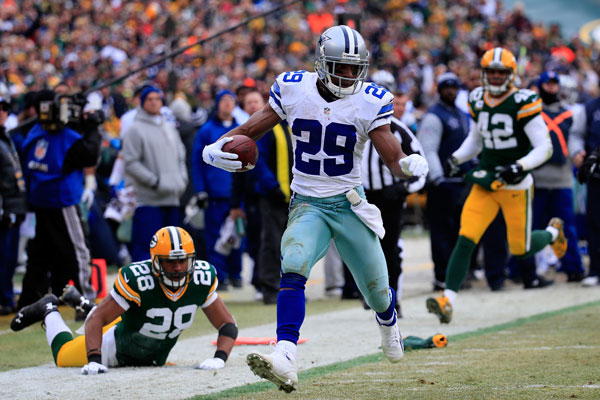 RB Fantasy Football News
The NFL's 2015 free agent class reads more like a who's who in fantasy football, but what team these players end up on can most definitely impact and shape each player's fantasy value.
One of the top free agents coming into the 2015 season is Cowboys WR Dez Bryant. The high-profile wideout had a remarkable season, finishing first in receiving touchdowns with 16 and 8th in receiving yards with 1,320. Bryant helped guide Dallas to the playoffs, as the Cowboys sported an impressive 12-4 record. Bryant is most certainly set to sign a contract that puts him among the top 10 highest-paid wide receivers in the NFL and it appears that the Cowboys will be the team to get the job done. With Tony Romo still at the helm of the fast-paced Cowboys offense, Bryant should be poised to have another remarkable season, and he could easily be drafted as a top 3 wide receiver for next season.
Dez Bryant's Cowboys teammate and bell cow fantasy RB, DeMarco Murray, is also available as a free agent. Whether or not the Cowboys can bring him back to Dallas is a HUGE question mark. Murray paced the league with 1,845 rushing yards, out gaining the second leading rusher, Le'Veon Bell by nearly 500 yards.
In RB news, Murray proved all the doubters wrong as he was able to endure various injuries, and take on a workload that consisted of 392 carries on the year, missing no games in the process. His ability to take the field during every game will no doubt make him an appealing tailback on the open market. It's nearly impossible to determine where this talented halfback will land, but regardless, he should be drafted as top 5 option as he has proven his ability to put together a complete season.
Another wide receiver on the market that should be monitored closely is the highly-talented Demaryius Thomas. Thomas finished second in the league by racking 1,619 receiving yards, adding 11 touchdowns as well. He ended the regular season on a hot streak as he put up 115 receiving yards or more in 2 of his last 4 games in the regular season, and should be seen as a candidate to replicate those numbers, no matter what team he winds up on.  
Thomas is most definitely a very valuable asset for the Broncos moving forward, and they will do all they can to keep him in Denver. He might require a franchise tag to keep in the city, but that might be necessary as he should be a hot commodity if left open to the market as a clear-cut top 3 receiver. Thomas has shown the ability to breakout on a weekly basis, and should be drafted as a high-end number one wideout in all fantasy formats.
Demaryius Thomas' teammate Julius Thomas (no relation) is also set to his the free agency market, and will be heavily targeted as a difference-amker at the tight end position. Despite missing 3 games due to various injuries, Thomas was able to secure 12 touchdowns, tying for first for his position with Chargers TE Antonio Gates, and Patriots TE Rob Gronkowski.
If Thomas makes it to the free market, without retaining his position with the Denver Broncos, his position should remain in demand as an athletic stretch tight end with the ability to make defenses struggle in opposition. His only downfall is his inability to block for the running game, but his offensive possibilities should trump his deficiencies against the run. His overall snap count may diminish ever so slightly depending on his landing spot, but he should still see enough targets to retain his place in the top 3 tight ends in the league.
The last free agent to discuss is Lions DE Ndamukong Suh, and his landing spot is of optimal importance. The Lions finished second in the league in allowing 300.9 total yards per game, and their success can be attributed to Suh's presence on a weekly basis. Since he has had difficulty with his temper, and has dealt with multiple disciplinary issues, he might have seen his last day as a member of the Detroit Lions. That being said, the defense of whatever team he joins is certain to see an increase in dependability, and in performance against both the run and the pass. Be sure to monitor Suh's status on the market, as he can personally influence a team's defensive performance simply by being present.
Stay tuned with ASL's RB fantasy news all offseason for the most updated info!