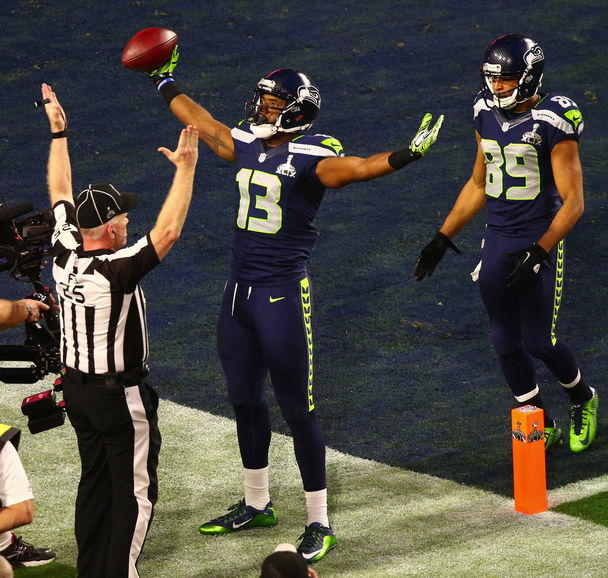 NFL Fantasy Sleepers and Fantasy Football Keepers - 
Seattle wide receiver Chris Matthews didn't record a single catch during the regular season, but delivered an EPIC performance in the Super Bowl recording 4 receptions for 109 yards and touchdown.
Now Dynasty Diehards in search of those fantasy sleeper picks are clamoring for information wanting to know, "Where the heck did Chris Matthews fall out of the sky from?"
And - "Should I care about him for Dynasty leagues?"
Let's examine those questions…
*First, note that he was projected and discussed in our 2014 Fantasy Football Draft Guide. In my write up/analysis of his 2014, I began it with: "…more interesting as a deep-deep-deep sleeper for FF with the retirement of Sidney Rice." So, it's like I knew this was coming! Kidding. Can you believe it's almost time to start work on the 2015 Fantasy Football Draft Guide? You'll be reading it in less than six-months…
**Second, the odds that every radio, TV or print personality who mentions Chris Matthews' name tomorrow, will make a joke about the talk show host on MSNBC with the same name: it's 1-to-9. It is the same odds that I will go legally insane about the 3rd-4th time I hear it Monday.
Matthews's bio notes…
 — Matthews is a legit 6'4"+, and was a high school TE/WR and Defensive End.
 — Matthews became a JUCO star WR…and going the JUCO route due to being academically in eligible for D1 schools.
 — As a Junior, Matthews qualified to join the University of Kentucky, and was a solid SEC WR—playing two years with Randall Cobb (who was then a WR-RB-QB). Matthews was useful as a Junior, but shined a little as a Senior (2010), with 61 catches (4th in the SEC) for 925 yards (6th in the SEC) and 9 receiving TDs (led the SEC).
His big game came against South Carolina as a Senior: 12 catches for 177 yards and 1 TD.
He would be classified as pretty good, but not dominant in his time in the SEC.
 — He was not an NFL Combine invite. At his Pro Day, he ran a 4.6+ 40-time with decent agility, and a below average vertical. He was solid, but not spectacular athletically…thus the following path to the NFL:
 — He went undrafted in 2011 NFL Draft, and had a tryout with the Cleveland Browns, and ultimately was cut before the season began.
 — In 2012, he played in the Arena League with Iowa, and then flipped over to the CFL. In 2012, Matthews was the CFL 'Most Outstanding Rookie Award'. He posted 81 catches for 1,192 yards and 7 TDs for Winnipeg that season.
 — In 2013, he had a bout with turf toe, and was released by Winnipeg…and thus wound up working at the infamous Foot Locker. If they aren't on the phone with him right now for an ad deal…
 — He was signed to a future's contract with Seattle in 2014. He was cut before the season, and then placed on the practice squad. He would later recover the critical onside kick against Green Bay, and then make his first NFL catches in the Super Bowl—winding up with 100+ yards and a TD. He would have been the MVP had Seattle not blown it/lost in the final moments.
**See the 2015 NFL Draft and 2015 Dynasty Rookie Draft, like never before with our Moneyball-style scouting reports and rankings. Go to www.collegefootballmetrics.com **
Fantasy Football 2015 Outlook:
If this entire Seattle WR group is back as-is, then I would get interested in Matthews. He showed an ability to 'play with the big boys' on a big stage. He didn't have a lucky debut. He was physical with DBs, and made some outstanding 'up for grabs' catches. He's a worthy NFL WR…arguably their best red-zone target in 2015—as it stands today.
However, I maintain that Seattle is going to re-do their entire offensive skill position depth chart—all new WRs via draft and free agency, and a possible end of the Marshawn Lynch era. Matthews may maintain a role in that new mix…but likely will not be a featured player. If you don't believe that Seattle changes things up much at WR in 2015, then Matthews is definitely worth a stash.
…of course, everyone is chasing him now—so good luck.
I wouldn't go crazy in FF-pursuit. I would claim him (if possible), if I could do so for little-to-nothing, and then deal him away quickly—that would be my main plan. I don't think there is a mega star here, but in the right situation (a.k.a. a good-great QB and an opening as a 3rd-WR), he is a decent WR and nice red-zone threat. If he gets a chance, he'll produce solidly.
Would I draft him in the 2015 Dynasty Rookie Draft? Not as highly as someone else is willing to, I'm sure. Is he on my list? Yes. Is he someone I would take in the first couple of rounds–not likely. 
– R.C. Fischer is an NFL Draft analyst for College Football Metrics.com, and a football projections analyst and writer for Fantasy Football Metrics.com. He is also a lead writer for 'Play The Draft.com'. His group also provides player projections for Advanced Sports Logic's football software "The Machine." See "The Machine" here: The Machine via FFM