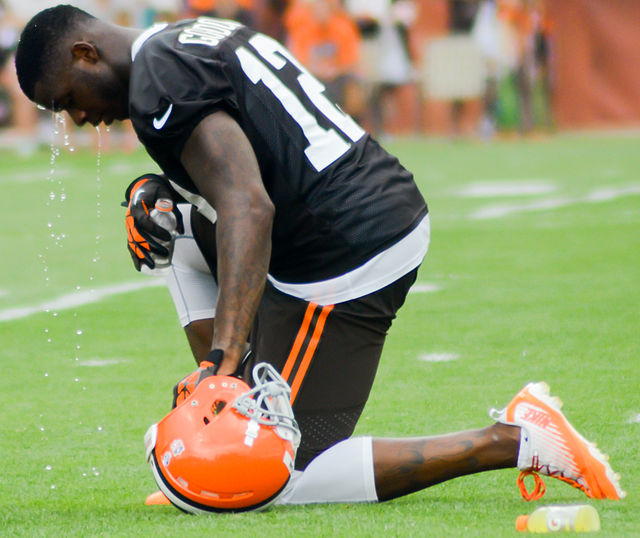 WR Fantasy Football News -
The carousel that is Josh Gordon's football career continues to go round and round. Even the NFL has its limit on the behavior of its players and the elite talent of Josh Gordon may not be enough stop him from trashing his own career. The Cleveland Browns fantasy WR Josh Gordon failed yet another drug test (alcohol) and now will be subject to another one-year suspension, according to league sources. This is coming after Gordon just served out a 10 game suspension for the 2014 season. He was actually in the process of serving a year-long suspension, when a new set of drug testing and punishment policies reduced his penalty to only ten games. 
It's clear that Gordon needs some type of help because this pattern of behavior dates back well into his high school playing days. During Gordon's college years at Baylor, he chose to enter the NFL after he was dismissed for a failed marijuana test. So this begs the question, does he still have any shot to play in the NFL?  Not if he can't stay out of WR news.
Gordon's future is extremely fuzzy at the moment. In the 5 games that Gordon did participate in, he was nothing but mediocre compared to the unbelievable 2013 season he had. After serving a two-game drug suspension, Gordon led the league with 1,646 yards in only 14 games. It doesn't look good when you compare those numbers to the 2014 season where he caught just 24 passes for 303 yards in five games. There is still much to be said about Gordon and fellow "bad-boy" teammate Johnny Manziel, and whether or not they can ever produce together.
The difficult part for Gordon is that he will have to stay sober for an entire year in order for Roger Goodell to reinstate him. Goodell is mired in a public relations nightmare with the league and he may show no mercy to a repeat offenders like Gordon. The bottom line is that it's ultimately up to Gordon if he ever wants to get himself straight enough to play in the NFL again.
Stay tuned to ASL for the best WR fantasy news!