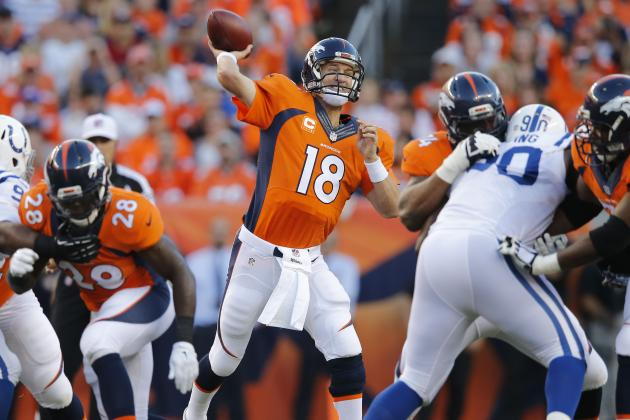 As the Colts head to Denver to take on the Broncos, Peyton Manning has the opportunity to take down his old squad for the second time this season and advance to the AFC conference championship. Manning and company got the best of the Colts in their first meeting during Week 1 this season, 31-24, but both teams have undergone major changes since the start of the season. 
Denver's backfield now features rookie stud C.J. Anderson, who will look to set the tone early. Anderson ended the season on a high note with 31 carries for 170 yards (5.48 yards per carry) and 4 touchdowns in his last 2 games combined, also picking up 75 receiving yards on 10 receptions. Indy's lackluster rush defense finished off the season ranking 18th in allowing 113.4 rushing yards per contest and Anderson will exploit their every weakness. With The Broncos making more of an effort to include a solid rushing attack in their offense, expect Anderson to get a heavy workload and post anywhere from 80-120 rushing yards and a touchdown. 
Manning's success could be contingent upon the health of his freak athlete tight end Julius Thomas. During Week 1, the tandem hooked up 7 times for 104 yards and 3 touchdowns. Thomas is easily the most difficult offensive weapon to defend, but the ankle injury that's plagued him through out the latter half of the season may still be nagging him. 100 percent or not, expect Julius Thomas to rack up a ton of targets for a moderately successful game around 50-60 yards and a red-zone touchdown.
As for Indy's offense, they face a much more difficult task of breaking down the elite Broncos defense. The Broncos upgraded their secondary significantly from last season with the additions of T.J. Ward and Aqib Talib and the difference is very notable. Denver finished off the season ranked 9th against the pass, allowing 225.4 passing yards per contest.
Couple that with a top notch rush defense and it could be a long day for Andrew Luck and company. The Broncos finished the season ranked 2nd in rushing yards allowed, surrendering 79.8 per contest. That leaves the Colts with no easy way around it, so they will have to settle with check downs. In order to pull off a great upset, Luck will have to settle for moving the ball slowly, preferably with short throws to RB Dan Herron, WR T.Y. Hilton and his dual TE threats in Dwayne Allen and Coby Fleener.
Herron could be the difference maker in this one, if he can manage to hold onto the ball. Herron is a solid lead back who can provide a real spark for the Colts passing attack. His major problem has been fumbling, as he coughed it up twice in their win over the Bengals last week. If he can keep the ball in his hands, the Colts have a shot to advance. Expect Herron to see upwards of 15-20 total touches and put up a solid performance, with at least 100 total yards from scrimmage and possibly a touchdown.
The Broncos should walk away the victors, but it won't be easy.