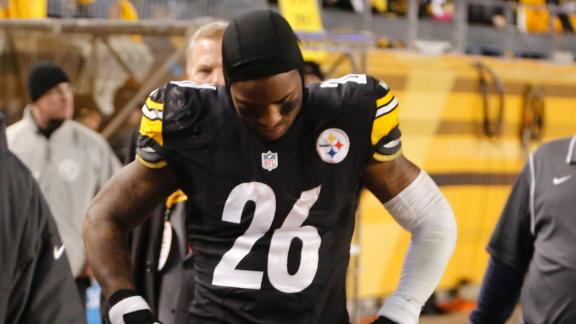 RB Fantasy Football News -
Steelers running back Le'Veon Bell has been one of the great stories this year in the National Football League. Bell is clearly one of the Steelers most valuable players. That being said, the Steelers playoff prospects continue to dim with Bell's hyperextended his right knee.
The only good news out of Steeler's camp thus far is that the injury is nothing more than a hyperextension and not a tear. It can also be noted that Bell did not have a brace on the injured knee nor did he need crutches.
If Bell is not able to play against the Ravens or if he is completely limited by his injury, the Steelers running game will likely fall apart. The sophomore running back out of Michigan State finished the regular season as the AFC's leading rusher with 1,361 rushing yards.
To add salt to the Steeler's wound, the backup running back situation is nothing to write home about. In RB fantasy news, Pittsburgh signed fantasy RB Ben Tate on Tuesday to provide some veteran leadership for rookie backups Dri Archer and Josh Harris.
It has been proven that a good running game will help your team tremendously in the playoffs, especially a team that already relies on the run. A good running game creates more man coverage for Steelers standout wide receiver Antonio Brown.
If Bell is healthy and can play, the Steelers are back in the driver's seat. However, the reality is that there is very little chance that Bell will even suit up, because the Steelers know better than to risk the future of the franchise for one Wild Card Game.
Keep reading ASL RB news for info that could help your team!