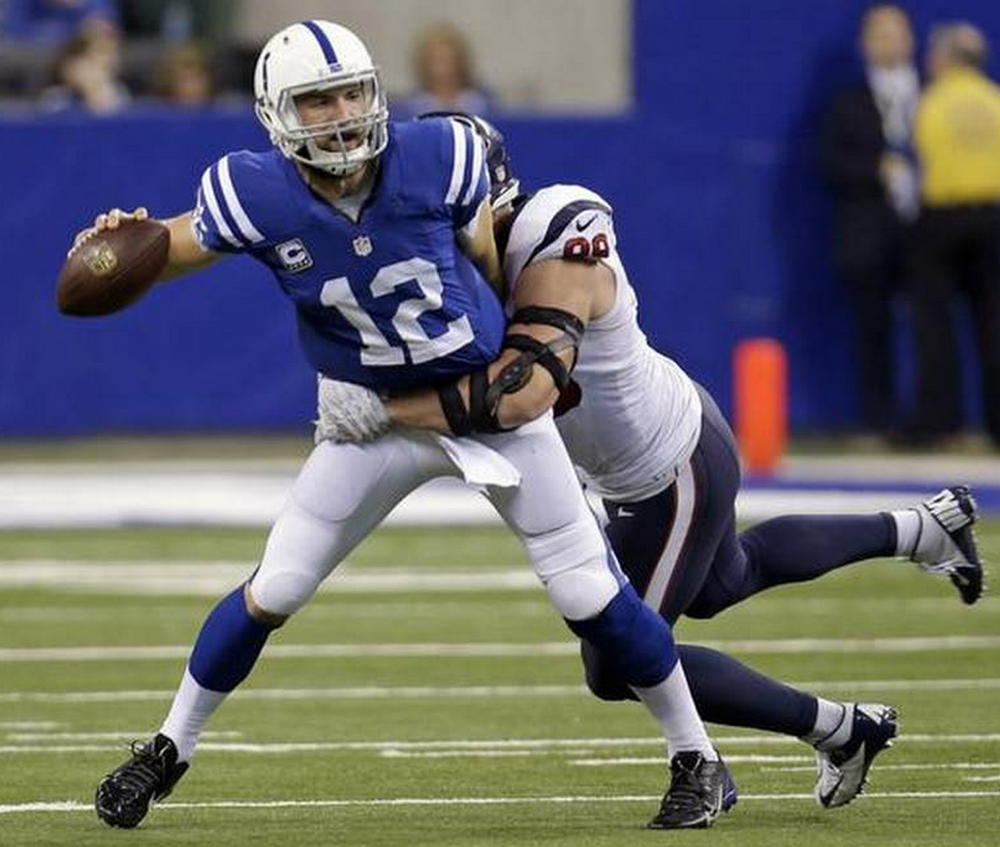 QB Fantasy Football News -
Andrew Luck
Andrew Luck fantasy owners had all the confidence in the world as the Colts travelled to Dallas to take on a Cowboys pass defense that specializes in giving up yards and touchdowns. The Cowboys had allowed 6 passing touchdowns from Weeks 12 to 14, but that was the last piece of good news for fantasy owners. The Cowboys ran wild over Luck limiting him to 109 yards passing, two picks and no touchdowns. It got so bad that the team yanked Luck, inserting veteran Matt Hasselbeck into the game who managed the Colts only score of the game.
Mathew Stafford
Another big name fantasy QB who did nothing on championship week was Mathew Stafford. Stafford didn't do much better than Luck. He threw for 243 yards and 2 interceptions against a diminished Chicago Bears defense. Keep in mind that the Bears gave up 6 passing touchdowns combined during the last two weeks to Tony Romo and Drew Brees. Fantasy owners were expecting some production from Stafford, but that was definitely not the case during Week 16. Stafford underperformed in week 15 against the Minnesota Vikings and has not been his usual self this year from a fantasy standpoint – so this underachieving performance is nothing new for Stafford owners.
Aaron Rodgers
One of the leading MVP candidates, Aaron Rodgers, didn't have such an MVP type performance during week 16 against a bad Tampa Bay Buccaneers defense. The Bucs were ranked 22nd against opposing fantasy quarterbacks but Rodgers didn't look his normal self. He threw for 318 yards, 1 touchdown and did unfortunately lose a fumble. This was definitely a better stat line than Luck and Stafford – but was not the MVP type performance fantasy owners were looking for. There are still some playoff implications next week for the Packers so look for Rodgers to be more productive at home against the Detroit Lions at home come week 17.
Peyton Manning
And wow what has happened to Peyton Manning? In negative QB fantasy news, Manning played atrocious in week 16 against the Cincinnati Bengals. Somehow the Hall of Fame quarterback managed to get picked off 4 times – that's right 4 times! Let's give credit where credit is due though, the Cincinnati Bengals have played tremendously over the past two weeks, forcing 6 interceptions from the likes of Johnny Manziel and Peyton Manning. There is light at the end of the tunnel for the Broncos and Manning as they will face a dreadful Oakland Raiders defense ranked 25th against opposing fantasy football quarterbacks. Look for Manning and the Broncos to get back on track next week.
For the latest QB news, stay tuned to Fantasy Focus!