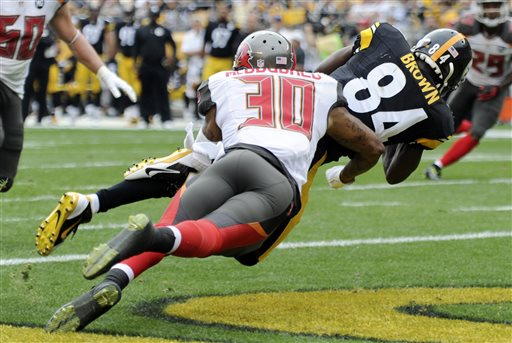 Fantasy Waiver Wire Pickups - 
SS Bradley McDougald, Tampa Bay
The 2013 undrafted free agent has clawed his way into the starting lineup the last two weeks. I wasn't sure whether to believe his Week 15 game was real (15 tackles, 11 solo), but he followed that up with 9 tackles, 8 solos, and a PD last week. He's averaging 12.0 tackles per game the past two weeks.
He is a mediocre athlete (thus undrafted), but is a very instinctive, high-effort player. He began his college career (Kansas) as a WR, but then moved to DB. In his final two college seasons, he posted 90+ tackles each year.
Watching him on tape the last two weeks has been encouraging—smart movement to the ball, and playing 100% each play. Look for him to make a run at double-digit tackles this week.
LB Christian Jones, Chicago
The rookie IDP out of Florida State has been playing more for the Bears in the 2nd-half of the season. However, what is attention getting is his last two games. Two double-digit efforts—13 and 11 tackles respectively (12.0 per game) in the past two weeks makes him one of the more popular fantasy pickups this week.
Jones is a solid, not spectacular prospect, but he is getting a ton of snaps of late, and has been producing. He projects for another big game in Week 17.
 CB Dontae Johnson, San Francisco
Dontae Johnson is a terrific athlete who is starting to pull more time at CB for the 49ers as the season comes to a close. He was a 4th-round draft pick in 2014 out of NC State. He's a big, physical CB…like a Safety/Cornerback hybrid. He's 6'2", 200+, and runs a 4.4+ 40-time. He was not thrown at much in his senior season, but still posted 81 tackles with three interceptions in his final college campaign.
Over the last three weeks, he's been playing more…and producing more. 5.7 tackles and 0.3 PDs per game in that span. This week he faces Logan Thomas…who should cough up a couple of turnovers…and Johnson might be in on one (or more) of them.