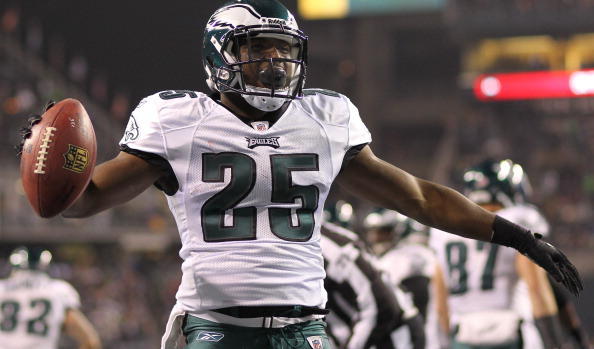 Fantasy Sit Start
Sit
1. RB LeSean McCoy, PHI:
McCoy can still shake up defenses with his agility and elusiveness, but his value is taking a hit as he's losing goal-line opportunities. Just last week, he rushed 16 times for 64 yards (4.0 yards per carry), but fellow back Chris Polk was the one to hit the end zone twice, and Darren Sproles picked up a TD as well. McCoy will have a tough time picking up the same high rate of yards per carry against the stout Redskins defense, as Washington ranks 7th in allowing 101 rushing yards per game. Expect Shady McCoy to put up low-end RB2 numbers as he continues to lose goal-line work.
2. RB Frank Gore, SF:
Gore is dealing with a concussion, and though he is on pace to start in Saturday night's game, don't expect him to get too much work in. With the 49ers having no chance of making the playoffs, they may not want to risk him re-injuring himself. San Francisco plays a decent rush defense in the Chargers, as San Diego ranks 13th in surrendering 108.6 rushing yards per contest. This may very well be a game where Kaepernick leads the team in rushing (and carries for that matter as well), as Gore can rest up in what could be one of his last 2 games with the team. Consider Gore a weak RB3/Flex play for Week 16
Start
1. RB Tre Mason, STL:
Mason is a strong play in fantasy leagues across the board as his match up gives him great appeal for this week. On Sunday, the Rams host the Giants, who struggle heavily defending the run. New York ranks 30th in giving up 135.1 yards per game, and the young tailback will exploit the running lanes provided for him with ease. Coming off a poor performance (13 rushes for 33 yards), this is a great opportunity to bounce back. Mason is a solid fantasy football start as a high-end RB2 with major upside.
2. RB Mark Ingram, NO:
Mark Ingram is in a position to succeed, as the Saints take on a porous Falcons defense as they try to solidify their position atop the NFC South. Atlanta ranks 20th in allowing 117.4 rushing yards per game, and the young tailback should get some goal-line work as well. Ingram had a solid game last week, as he took 17 carries for 59 yards and a touchdown, and will look to keep the ball rolling. Ingram should receive 20+ touches, and should be considered a very appealing RB1 play this week.