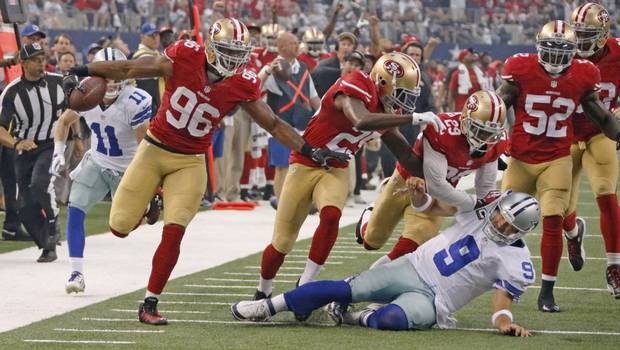 Wow.
Week 14 was "The Red Wedding" episode of the 2014 fantasy football season as more star players bit the dust than any week this year.
If you own Peyton Manning and are still standing, then chances are your team had earned a bye last week.
If you made it through the carnage of last week with a Drew Brees, LeSean McCoy or Jimmy Graham - then a hearty congratulations is in order.
There is no rest for the weary as we plow forward into week 15 and the players that will lead your teams to victory.
Without further ado…
START
Tony Romo, DALLAS at Philadelphia: We will give Romo the benefit of the doubt that his miserable Thanksgiving performance against the Eagles was due to the short week and its effect on his back. With plenty of rest, Romo will take advantage of a defense that's given up 26 touchdowns through the air while only picking off 10 passes. Look for Romo and the Cowboys offense to exact some revenge Sunday night.
Matthew Stafford, DETROIT vs. Minnesota: The Lions offense is beginning to fire on all cylinders and Stafford is averaging 350 yards passing in his last two games. He has also tossed five touchdowns without an interception in those games. Geno Smith just put up 254 yards and a score against the Vikings…Geno Smith. Get ready to see the Stafford-to-Calvin Johnson show all day long - a must fantasy football start.
Ben Roethlisberger, PITTSBURGH at Atlanta: Big Ben finally had a nice road game and it came versus a solid defense and a team that he had historically struggled against. He now gets to face a Falcons defense that has allowed 10 touchdowns in the last six games. Yes, we trust Roethlisberger to shine again away from home.
Matt Ryan, ATLANTA vs. Pittsburgh: Over his past three games, 'Matty Ice' has tossed eight touchdowns and only three interceptions. He's also averaged 336 yards passing during that time. The Steelers have allowed at least two touchdowns to quarterbacks in seven straight games. This is going to be a big week for Ryan.
SIT
Colin Kaepernick, SAN FRANCISCO at Seattle: If Kaepernick couldn't produce against the Oakland Raiders on the road, there is no hope that he will do anything at Seattle. Whoever the new coach is in San Francisco next season, getting the kid back on track should be job one. Avoid at all costs this week.
Andy Dalton, CINCINNATI at Cleveland: Dalton continued his up and down play with two passing touchdowns last week. He put up over 300 yards passing along with a career long 20-yard touchdown run. This week he faces a much stiffer test in a Browns defense that just held Andrew Luck in check. It's hard to shake that Week 10 performance in which Dalton completed 10-of-33 passes for 86 yards and three interceptions against Cleveland. Bench him.
Ryan Tannehill, MIAMI at New England: Tannehill stumbled badly last week in a favorable matchup at home. There is no way we are going to trust fantasy playoff success by counting on him at New England this week. In the last five games, the Patriots have held Peyton Manning, Andrew Luck, Matthew Stafford, Aaron Rodgers and Philip Rivers to a combined total of seven touchdown passes. There are better options than Tannehill.
Joe Flacco, BALTIMORE vs. Jacksonville: Flacco has bolstered his last two performances by racking up a rushing touchdown in each of the games to accompany two touchdown passes. That is not something to be counted on to continue on a weekly basis. Flacco has topped two rushing touchdowns for a season only once (2012). The Jaguars defense has been stout of late against quarterbacks, holding them to merely three total touchdowns (one rushing) in the past three games.
Keep reading ASL for the most complete fantasy sit start info!