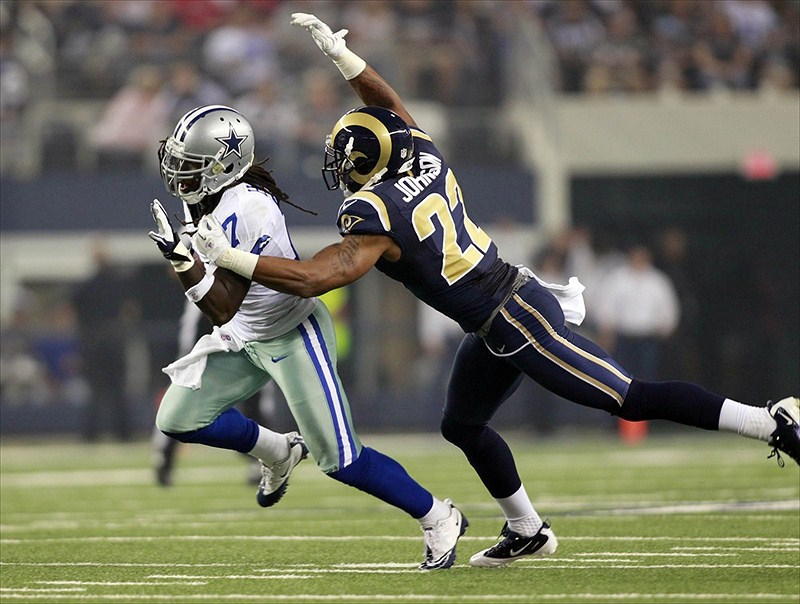 Fantasy Waiver Wire Pickups - 
DB Trumaine Johnson, St. Louis
Trumaine Johnson missed the first eight weeks of the season with an injury, which has been a running theme for him during his first three NFL seasons—nicked up and missing games. However, his return to full-time action over the past few weeks has helped with a massive resurgence in the St. Louis Rams defense…one I would argue is now among the top-3 most talented in the NFL.
Johnson has some Richard Sherman like qualities as a CB…really he's more of a Safety playing CB. He is 6'1"+, 205+, and hits ball carriers like a punishing Strong Safety. Because he is a little slower (4.5+) and not as agile, he often gives up a cushion in coverage to WRs…so he sees a lot of short passes caught in front of him, but then he closes like a linebacker and tries to blow-up the receiver-which is great for IDP/Fantasy purposes. He is a DB that sees a lot of action.
In the past three games, Johnson has averaged 6.7 tackles per game. Over his last four games, he has posted 1.7 PDs and 0.8 INTs per game. He has had an instant impact playing a lot of CB, but moves to a quasi-Safety or OLB from time-to-time. Facing ARI and NYG during the next two weeks, he should provide ample opportunity to push IDP numbers.
LB Craig Robertson, Cleveland
I was so focused on rookie Christian Kirksey when Karlos Dansby went down, that I didn't catch 3rd year pro Craig Robertson making a move—he's up to 10.8 tackles per game the last four weeks.
Robertson was an undrafted free agent out of North Texas in 2011, who has been productive for the Browns the last three seasons…but playing his best (FF-output) ball as of late. He is average athletically (4.75+), but a high effort guy…100+ tackles in each of his final two seasons in college. He led the Sun Belt conference in tackles in 2010 (133).
As long as Karlos Dansby is out, Robertson has a chance to post double-digit tackles and is one of the better fantasy pickups for the short term.
DB Bene Benwikere, Carolina
The Panthers dumped Antoine Cason, and installed rookie Bene Benwikere as their new starting CB last week. He answered the bell (FF-wise) with 8 tackles, 2 PDs, and a pick.
Benwikere was a CB/S hybrid for much of his college career, switching to CB later…and picking off 12 passes in his final two season of college play. In his senior season, he was 2nd in all the NCAAs with seven interceptions. He's not a burner (4.6+) speed, but is agile with a great vertical (40.5"). He is solid…and the type of CB who will get picked on a lot the rest of the season…meaning nice opportunity for PDs and tackles.