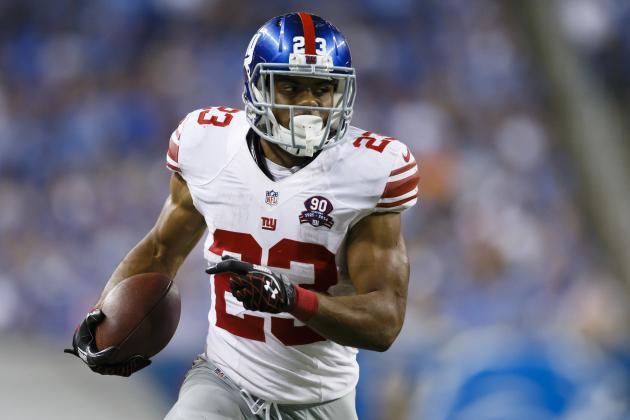 RB Fantasy Football News
Rashad Jennings fantasy owners have been really pleased the last few weeks as the fantasy RB scored more than 20 points in PPR leagues and has had three straight weeks with double-digit fantasy points.
Jennings sat out the Giants final two drives after injuring his ankle in Sunday's loss to the Jaguars. Before his injury, Jennings racked up 91 yards and two touchdowns on the ground. In RB news, Jennings hadn't practiced all week and was a limited participant on Friday.  
Jennings made it clear after yesterday's practice that even if he does play, he won't be anywhere near 100%. According the the Giants coaching staff, Jennings would likely split carries right down the middle with backup RB Andre Williams.
The Giants also signed Chris Ogbonnaya on Tuesday which is not what Jennings owners wanted to see. Jennings' injury comes at a horrible time for fantasy owners as it's the first week of playoffs in a majority of the leagues and the Giants are playing the Titans who give up the fifth most points to Running Backs this season. 
Jennings owners need to keep a close eye on Jennings' pre-game warm-up and see if he is active. He could end up being a top 10 RB in Week 14 if he's healthy enough to suit up. Keep a close eye on Jennings on Sunday morning and make sure you have a replacement ready.
Stay updated with ASL RB fantasy news!