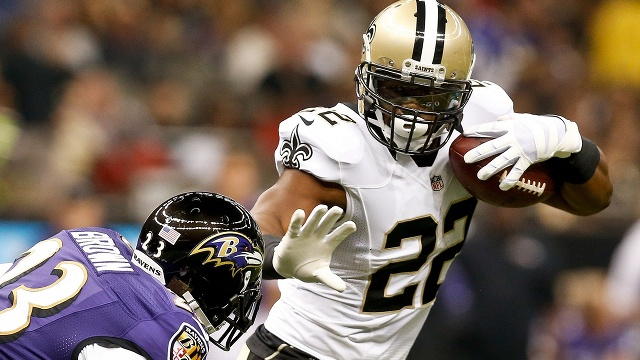 RB Fantasy Football News
There are three running backs in the New Orleans Saints backfield that want to be fed, but there is only one that fantasy owners want to own and that back is the former Heisman Trophy winner Mark Ingram. That leaves Pierre Thomas and Khiry Robinson mostly out of the mix. These are two fantasy RBs that should only be on your roster if you are in deep leagues or flat out desperate.
Ingram finally appears to be answer to Sean Peyton's running game woes in New Orleans. In every game that Ingram played in this season, he's gotten a minimum of 11 carries. Last week, Ingram gained 122 yards on 23 carries against the Pittsburgh Steelers. Thomas only saw 3 carries last week and doesn't seem to have much value in the running game.
In RB fantasy news, Ingram is seventh among fantasy backs in fantasy points per game and is facing a Carolina Panthers defense that looks nothing short of terrible. This is not the same defense that was feared last year and Ingram should have ample success against them. The Panthers front is surrendering the 10th most fantasy points per game to opposing backfields.
Ingram did take a while to get back into the swing if things after he returned from injury. During Weeks 11 and 12, he rushed for only a combined 94 yards on 34 carries. He's also not an accomplished pass catcher, which will give Thomas some PPR value in deeper leagues. Robinson returns this week, but is likely to have very little value being 3rd in the pecking order.
The running back that has the most value in New Orleans is without a doubt Ingram. Fantasy owners should put faith in the former Heisman Trophy winner who has been reminding us of his days with Nick Sabin in Alabama. If you are in the fantasy playoffs, ride Ingram as a top-flight RB2 for the rest of the season.
Stay tuned to ASL for the most up to date RB news!