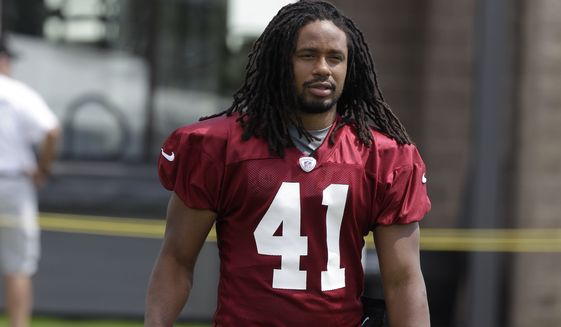 Fantasy Waiver Wire Pickups - 
FS Phillip Thomas, Washington
Redskins' starting FS Brandon Meriweather has a sprained toe that will probably end his 2014 as he will surely miss the next few weeks. This opens the door for Phillip Thomas who is likely to take his place for the rest of the season. Here's why you might care for Fantasy purposes… Thomas was the 2012 Defensive Player of the Year in the Mountain West Conference. Check out his final college season numbers, keeping in mind that he is a Safety…not a Cornerback: 84 tackles with 8 interceptions…three of them returned for TDs, along with 12 TFLs, 4.0 sacks, 4 forced fumbles, and 13 PDs. He led the NCAA in interceptions and was 4th in forced fumbles during his final college season (2012). The great 2012 led him to become the Redskins 4th-round pick in the 2013 NFL Draft—it also helped that he ran a 4.5+ 40-time with terrific agility at his NFL Combine and Pro Days with size…6'0", 208 (now 220+).
Post-NFL Draft, Thomas's NFL journey hit a few road blocks. During his 2013 NFL preseason debut, he hurt his foot…a Lisfranc and was lost for the season. During the 2014 preseason, he had foot and hamstring issues—and was cut, but then stashed on the practice squad. Finally, in November 2014, he was activated and started playing. He recovered a fumble in limited time during Week 12. When Meriweather went down, Thomas played plenty of minutes during Week 13, registering five tackles. Re-watching his college tape and reviewing his snaps from Week 13: Thomas is a very nice, aggressive tackler, but more than that he has a 'nose for the ball'. He just seems to be in the right place at the right time for creating turnovers or recovering fumbles. Thomas is in line for a ton of work ROS, and don't be shocked if he has 8+ tackles per game with a few picks sprinkled in.  He is one of the better fantasy pickups if available in leagues.
 
FS Daimion Stafford, Tennessee
Stafford has been playing about 25-50% of the defensive snaps in games since Week 6 with recently increasing statistical output. In two of his last three games, Stafford has registered six or more tackles. In the one game where he did not hit the 6+ tackle mark, he picked off a pass and posted two PDs. As Tennessee crashes and burns, keep an eye on Stafford getting more time at Safety. Stafford was a 7th-round draft pick out of Nebraska in 2013. During his final season in college (2012), he had 96 tackles with four interceptions (led the Big Ten) and 11 PDs (3rd in the Big Ten). He's a physically big Safety at 6'1", 218-pounds…more strong (21 bench reps) than athletic (4.6+ runner with marginal agility).
 
Watching Stafford on tape during the last few weeks, he's had several impressive solo tackles and/or big hits on guys like Arian Foster and Le'Veon Bell. He's a scrapper who is getting nice tackle counts with only limited playing time. He might be a 8-10+ tackle per game surprise with more playing time as the season winds down.
 
CB Anthony Levine, Baltimore
During the past two weeks, Anthony Levine has dialed up 9.5 tackles and 0.5 PDs per game as he takes over for injured CB Jimmy Smith. Levine is a track athlete type of football talent: 4.4+ runner with excellent agility, burst, and bench press. He was undrafted out of Tennessee State in 2010, and played with Green Bay before joining the Ravens. He has all the athletic skills and appears to be a high effort guy. He is a solid tackler, but is racking up more numbers of late because he is quick to the ball/any play, and he is getting picked on a bunch as the inexperienced CB. During Week 13, Philip Rivers was playing pitch & catch with Keenan Allen in front of Levine. To his credit, Levine kept Allen in front of him mostly, allowing minor gains on plays. Levine will keep getting work the rest of 2014, and he will get picked on for the rest of the season too—which means he should have decent tackle and PD numbers to go along with it.