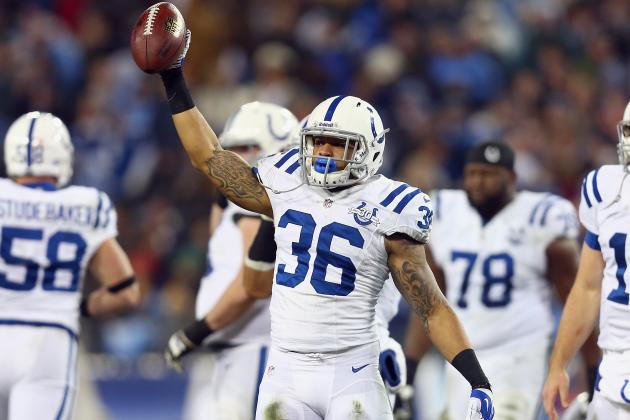 Fantasy Waiver Wire Pickups -  
1. RB Dan Herron, IND:
Boom Herron showed off his ability to make an impact despite receiving minimal touches in Indy's win over Washington. The 3rd-year back took 8 carries for 88 yards and a touchdown (11 yards per carry), and added 2 catches for 8 yards, but also coughed up a fumble. Despite losing a fumble in each of his last two games, Herron is receiving praise from Colts Head Coach Chuck Pagano, and should continue to see more touches than Trent Richardson. Richardson also received 8 carries, and was only able to gain 12 yards from those carries. He has proven to be an ineffective runner for the Colts, and Herron's 88 rushing yard performance was higher than any total Richardson's produced in almost two seasons in Indianapolis. Boom Herron is now the feature back in Indy, and is one of the better fantasy pickups as an RB2 with upside as a solid contrast to Andrew Luck's pass-heavy offense.
2. TE Jordan Reed, WAS:
Reed looked like a lost cause in a weak Redskins offense, but came alive as he secured 9 of 11 targets for 123 yards. The injury-ridden tight end has had a tough time producing too much when healthy enough to play, but has shown flashes of fantasy excellence with Colt McCoy at quarterback. McCoy has shown his liking of Reed, targeting him 18 times in the 2 games they have played together. With McCoy most likely retaining the starting job in Washington for the rest of the season, Reed may be a hidden gem for fantasy playoffs. Reed is a big athletic target at the tight end position, similar to Julius Thomas. He is a tough guard for defenses, and with McCoy at the helm, Reed is worth an add as a TE1 with major upside as a redzone threat.
3. QB Johnny Manziel, CLE:
Browns Head Coach Mike Pettine has yet to name his starting QB for next week, but it has to be Manziel. Brian Hoyer has faded as of late, throwing 0 touchdowns and 5 interceptions in his last two starts. Hoyer was benched for Manziel in the fourth quarter of last week's loss to the Bills, and Manziel led the Browns to their only touchdown drive as the rookie ran it into the end zone from 10 yards out. The Browns are one of many teams fighting to make the playoffs, and they may just have to turn to Manziel to try and get them there. The former Heisman winner from Texas A&M is a dual threat at the position, who makes big plays both through the air and on the ground. He has established himself as a true winner, and hopefully that will translate well into the NFL. Manziel has one of the best wideouts in the league in Josh Gordon at his disposal, and this should aid in his ability to succeed. Consider Johnny Manziel a QB2 with upside as a mobile quarterback.