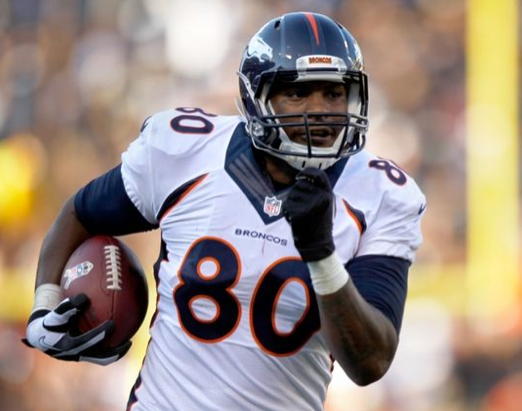 TE Fantasy Football News -
A late season trend continues as top-tier fantasy TEs have been missing in action for the past couple of games and Week 13 is not likely to make things any better. Julius Thomas and Charles Clay are great big questions marks this week, while Jordan Cameron has already been ruled out as a fantasy football TE option.
Julius Thomas – Broncos tight end Julius Thomas is a full-blown game time decision. His gimpy ankle is not bouncing back as quickly as initially anticipated and Thomas was "limited" in practice on Thursday and Friday. The Broncos star tight end missed Week 12 and fantasy owners are on pins and needles to see if he will suit up for Sunday's road matchup against the Kansas City Chiefs.
Charles Clay – Fantasy owners should NOT expect to see Dolphins tight end Charles Clay on the field for Miami's Monday night's road game against the Jets. Clay is dealing with knee and hamstring issues and is officially listed as "doubtful." The team held him out of practice on Thursday and Friday and fantasy owners should be prepared for him to miss his second straight game in a row.
Jordan Cameron – Browns tight end Jordan Cameron has already been ruled out for the team's Week 13 road matchup against the Buffalo Bills. Cameron has been struggling to make his way through the NFL's concussion protocol, but with 3 concussions since 2012, progress has been slow. Sadly for fantasy owners, he is no lock to be back on the field for Week 14 and could possibly miss the remainder of the season.