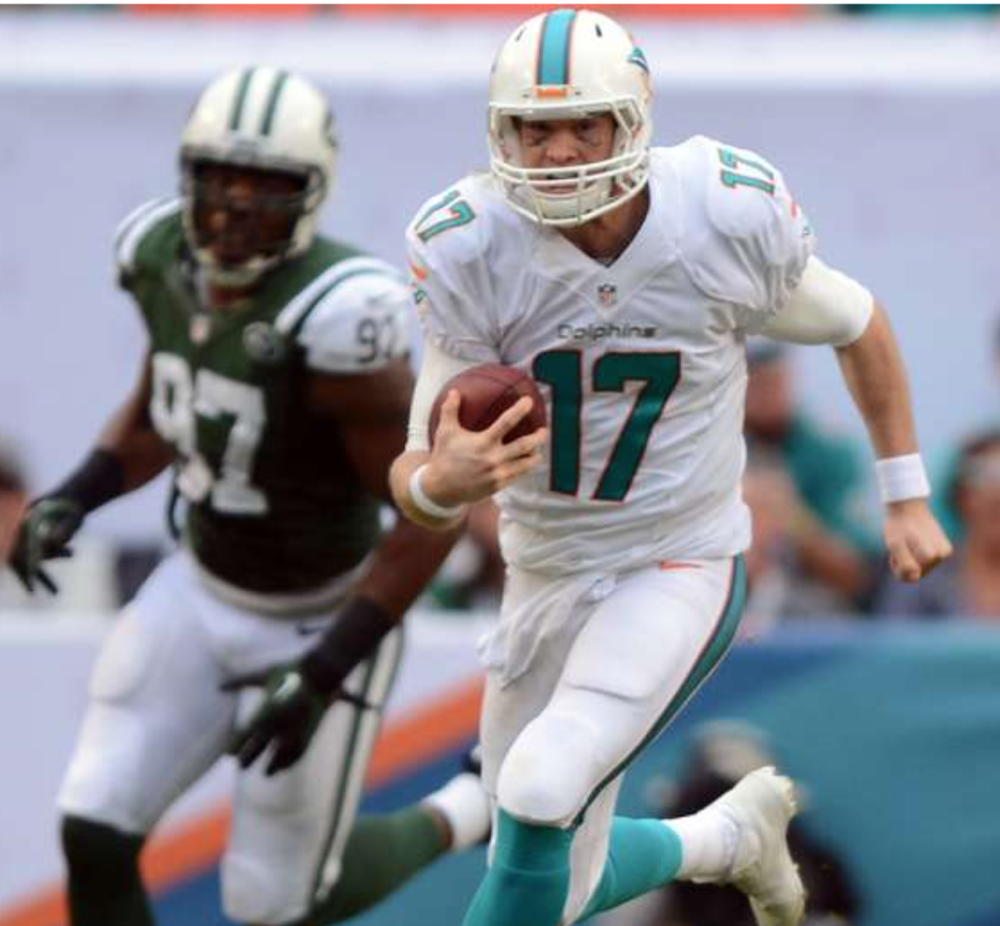 Ryan Tannehill should have a "banner" day against the listless Jets
Not necessarily the players in line for the biggest games this week, but rather some players that caught my interest and upon whom I shall cast my gaze.  They could be good NFL fantasy starts this week.
Ryan Tannehill, QB – Miami (at New York Jets): Let's face it, the Jets are a horrible team. Their offense is putrid—it scares no one. Which is why I have a feeling that Tannehill will use this contest to try and push his game to the next level… he has nothing to worry about should he make a mistake. But let's not sell Tannehill short: in his last two games, he's tossed five TD passes vs. just one INT (he's also rushed for a TD). Against the Jets, who allow the third-most points to opposing QBs, count on Tannehill to put up three scores.
Andre Ellington, RB – Arizona (at Atlanta): Do you know how NFL running backs regain their mojo? They play the Falcons. Ellington has been a disappointment to fantasy football owners this season, falling short of all the pre-season hype, but going against the Falcons' 23rd-ranked rush defense, Ellington should be able to put up 80 yards on the ground. Ellington also averages 4.5 receptions a game, which he should be able to top this week against the NFL's worst pass defense. This is one of those games that if Ellington doesn't walk away with at least 16 PPR points, he'll never amount to anything in this league.
Jeremy Hill, RB – Cincinnati (at Tampa Bay): The Bucs allow the fifth-most points to opposing RBs… this should be good news for the Bengals, who love to run the ball. While Giovani Bernard should have a solid game, it's clear that Jeremy Hill has been the guy who's been gaining all the momentum in the Bengals' backfield—Hill's had two 150+ yard rushing efforts in his last four games and has been all over NFL player news. If the Bengals pull ahead of the Bucs early (why wouldn't they?), they'll use Hill to batter the defense and run out the clock. I see a 100+ yard game for Hill with a score this weekend.
Charles Johnson, WR - Minnesota (vs. Carolina): Who? Johnson isn't on most people's radar, including most Vikings' fans; but he's on the radar of at least one person— Teddy Bridgewater. Johnson has been targeted by Bridgewater 18 times over the last two games, which is 13 more targets than Cordarrelle Patterson. I'm not saying that Johnson will be outperforming Calvin Johnson or Dez Bryant, but he's someone you can pick up if you're desperate for a WR or Flex option. Given the Panthers allow the fifth-most points to opposing WRs, a 5/75/1 line is entirely possible for Johnson.
Justin Hunter, WR – Tennessee (at Houston): Look, this is one of those cases where I first start by looking at the defenses of the worst teams in the NFL against the pass (the Texans are #31) and then figuring out who the beneficiary of that lousy play will be. I had the chance to watch Titans rookie QB Zach Mettenberger against the Steelers last week, and I must say I like the cut of his jib. Mettenberger is afraid to toss the ball around, and it seemed to me that his favorite WR target was not Kendall Wright, but rather Justin Hunter. Now, I'm not vouching for Mettenberger's intelligence, just his tendencies… I think Hunter might get 10-12 targets in this contest, which conservatively speaking should produce a 6/90/1 line for him.
Greg Olsen, TE – Carolina (at Minnesota): Coming off a bye week, Olsen and Co. should be well-rested and raring to go. Why wouldn't they? At 3-7-1 the Panthers are, amazingly, still in the running to win the NFC South. While the Vikings are actually pretty good at defending opposing TEs, signs point to Olsen having a big game. Olsen is the leading receiver on the Panthers in terms of receptions (56), but for some reason there's been stretches where Cam Newton doesn't target him as often as he should. In Week 11, Olsen was targeted 11 times—hopefully a trend that will continue this week; and with no running game to speak of, it looks as if passes in the flat to Olsen will have to serve as a running game.