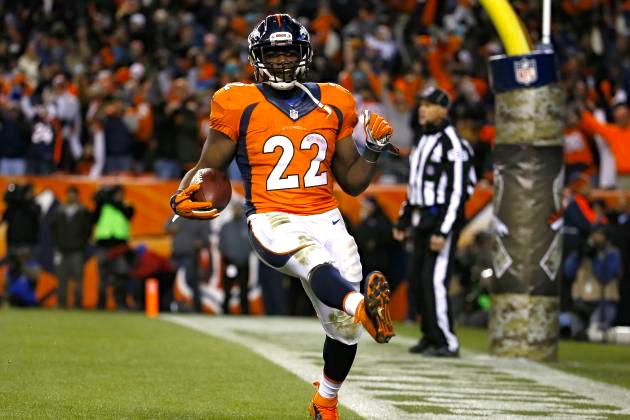 RB Fantasy Football News
So the carousel that is the Broncos backfield continues to go round and round. The latest running back to grab the starting spot is C.J. Anderson and he may very well be the cream of the crop.
The young fantasy RB had 27 carries for 167 yards while averaging 6.2 yards per carry against a stout Miami Dolphins that gave the Broncos all they could handle. He was also efficient in the passing game, hauling in all four targets that came his way for 28 yards. Another stat popping off the sheet is that over the course of the last three weeks, Anderson leads the NFL with 473 all-purpose yards in front of the Chief's Jamaal Charles and the Buccaneers Mike Evans.
The pre-season hype for Monte Ball is long gone now and there's no reason to waste a roster spot on him. Another running back that had the starting position was Ronnie Hillman who has been struggling with injuries of his own. This left Anderson in the driver's seat and his fantasy value is skyrocketing through the roof.
The Broncos have been looking for a back that's going to stay healthy and who is primed to give them steady production ever since the departure of Knowshon Moreno. Anderson seems to be the best candidate to help the Broncos running game get back on track.  Look for him to stay in the RB news.
Anderson was likely an unknown name to fans outside of Denver before the season, but now he is someone who you really need on your team. The 23-year-old was an undrafted free agent that the Broncos signed in 2013 and he is making someone in Denver's front office look like a genius.
Even if Ronnie Hillman and Montee Ball return for Week 13, Anderson should be considered a low end RB1 with nothing but upside. The amount of carries Anderson received during Week 12 were the most for any Broncos running back since Moreno had 37 carries against the New England Patriots during Week 12 of the 2013 season.
For insight into this and other RB fantasy news, stay tuned to ASL!