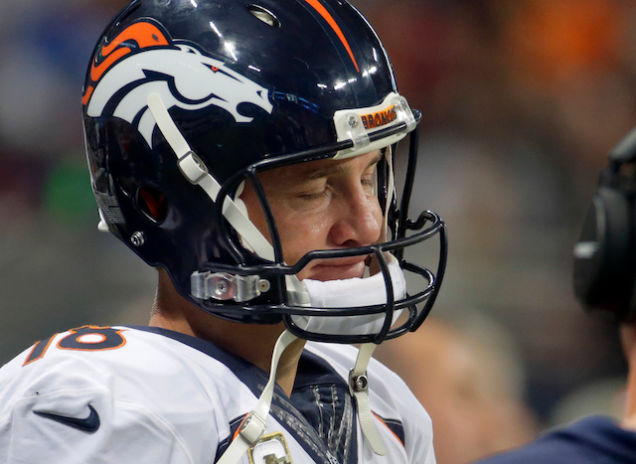 QB Fantasy Football News -
Broncos quarterback Peyton Manning has been in the league for far too long to let a few mediocre games get deep under his skin, but there are certainly times when his frustration is impossible to miss. So who is this interception throwing imposter and what has he done with the real fantasy QB stud Peyton Manning? Dare we say the golden boy is not looking so…golden at the moment? Well, let's not go too far with the acquisition, but yes, it's apparent that Manning is throwing more interceptions than usual.
In QB news, Manning had only succumbed to tossing three interceptions through the Broncos first seven games. Now compare those first seven of games to his last three games where he has thrown an outstanding six interceptions as if he was the second coming of Brett Favre!
However, this is Peyton Manning we are talking about and fantasy owners should not show any signs of concern or even think about benching him. Manning has thrown for at least two touchdowns in every game except one this season. If that doesn't impress you, Manning has thrown for more than 250 yards in eight out of ten games thus far.
Manning and the Broncos are also struggling with significant injuries right now. Emmanuel Sanders is going through the NFL's concussion protocol, Julius Thomas has an ankle issue and all of his starting running backs are out for at least the next two to three weeks. At this point, the team is going to be relying on Manning's arm even more than usual.
So fantasy owners, yes Manning is suffering through a little rough patch right now and throwing some uncommon interceptions, but let us take a step back and let Peyton Manning do what he does best, and that's score you fantasy points for you and win you games.  Keep reading our QB fantasy news on Fantasy Focus for updates.