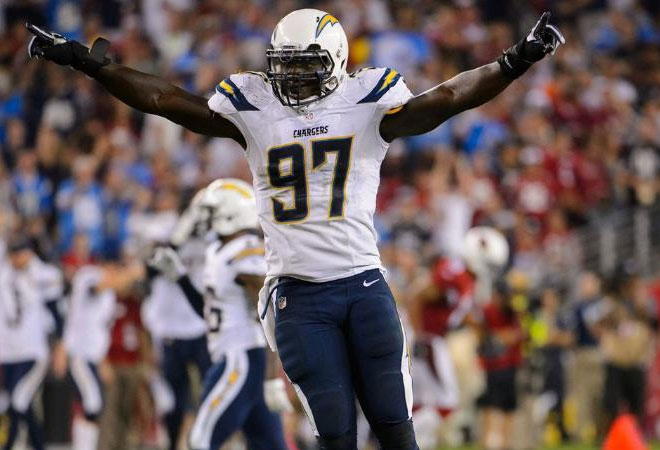 Fantasy Waiver Wire Pickups -
DE Jeremiah Attaochu, San Diego
Attaochu is the Chargers' 2nd-round (#50) draft pick out of Georgia Tech this year. Some scouts rated Jeremiah Attaochu as a late first-round prospect/talent, but he missed the NFL Combine battling a hamstring injury. In his young NFL career, he has been nicked up as well and has missed some games of late. The fact is that he has not been fully, consistently healthy to build/grow into more playing time this season. However, he was back in the lineup as of last week…and had a couple of tackles, and a timely sack of Derek Carr late in the Chargers narrow win over the Raiders.
Why I would mention Attaochu now? It's not because he is a high draft pick coming back into playing time, but it's more that he is a terrific pass rusher…and he could jump onto IDP radars quickly (in sack favorable scoring systems). In his final two seasons in college, he posted double-digit sacks (10.0 and 12.5) each season…and was a general menace on every play. He is insatiable trying to get to the QB.
 
Working with the current Chargers' D-Line, Attaochu might have a Connor Barwin-esque run of sacks as he gets more playing time…a guy who isn't discussed as a top pass-rusher, but you look up and suddenly he is getting sack totals in bunches.
LB Christian Kirksey, Cleveland
Karlos Dansby is going to miss a few weeks with injury, and Kirksey is a guy who can fill right in and put up equivalent numbers. Last week, when Dansby left early…Kirksey had nine total tackles. Back in Week 7, against Jacksonville he posted nine tackles as well. In his final three seasons at Iowa State, he averaged over 100+ tackles per season. He is a tackle accumulator. He's a solid athlete, but has an above-average feel for the game. He might give you multiple games with double-digit tackles while Dansby is out.  He is one great option out of the short term fantasy pickups available.
DB Ron Parker, Kansas City
Parker is really starting to come on for KC, even with Eric Berry back. With Berry's return, Parker has been playing more Cornerback, and in the past two weeks, Parker has averaged 9.5 total tackles and 1.5 PDs (three in his game vs. BUF). Prior to Week 11, he had a PD in five straight games. Because of his inexperience, QBs are going after him…so his PD counts should be solid. In 10 games played this season, he has seven or more tackles in five of them.
Parker is a terrific athlete out a small college (Newberry). He is a 4.4+ runner (clocked in the 4.3s at a Pro Day) with great burst and agility in a 205-pound, 5'11"+ frame. He is a very willing tackler with a nice wingspan to reach after ball-carriers in space, or deflect incoming passes.
He is a 4th-year player who has bounced around, mostly with Seattle who had a log jam of DBs and couldn't keep him. He's found a home in KC…playing CB with a Safety mentality.
– R.C. Fischer is an NFL Draft analyst for College Football Metrics.com, and a football projections analyst for Fantasy Football Metrics.com. His group also provides player projections for Advanced Sports Logic's football software "The Machine." See "The Machine" here: The Machine via FFM