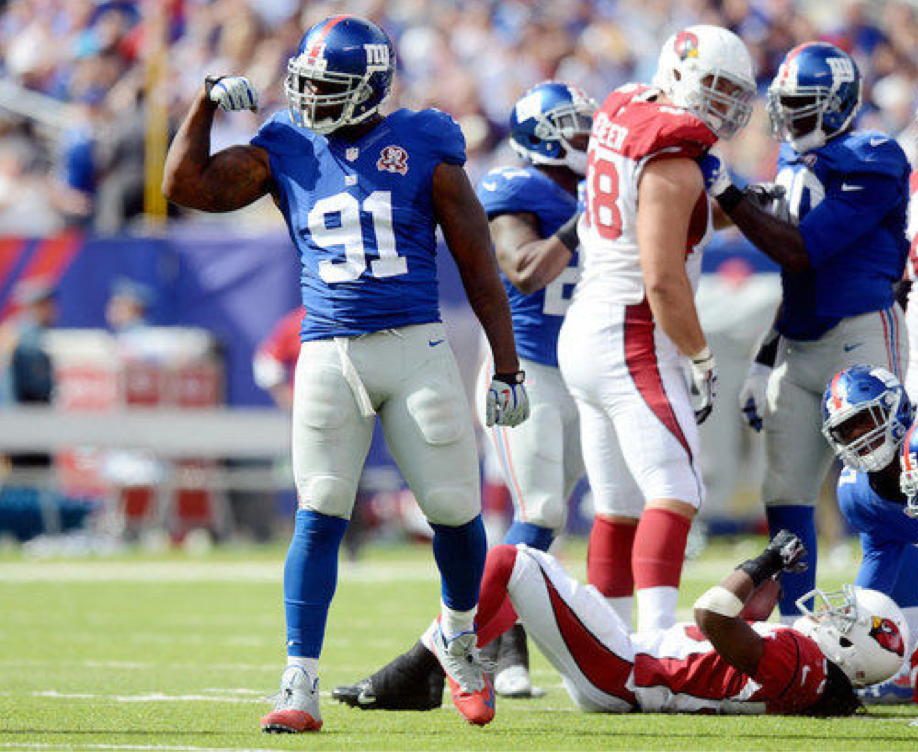 Fantasy Waiver Wire Pickups -
DE Robert Ayers, New York Giants
Ayers was a mostly (Fantasy) mediocre DE for the past five years in the NFL for the Denver Broncos, but he appears to have found new life with the New York Giants. Every time I re-watch the Giants games, of late, it seems like every other play Ayers is rushing the quarterback like he is shot out of a cannon. He looks scary-good at times as a pass rusher. He's also playing the run better than I expected—he looks totally engaged and healthy…and very quick. Playing on the other side from Jason Pierre-Paul is a good thing for him.
He has a sack in each of the last two games with several QB hits and QB hurries. In the next three weeks, the Giants have games with the 49ers and Jaguars, two of the most opportune quarterbacks to sack in recent weeks. If your scoring system is sack friendly, then Ayers might ring up one or two of them per game during the next couple of weeks, and could prove to be one of the better fantasy pickups.
LB Kevin Pierre-Louis, Seattle
Pierre-Louis is an IDP rookie just starting to get playing time.  In our 2014 NFL draft scouting, we thought Pierre-Louis was one of the best linebacker prospects entering the NFL and was a first round worthy player (was drafted 4th-round). He had a career high five tackles this week against NYG. I saw lining up as an ILB, OLB, and even DE against the Giants this past week…which he can play all three positions—he's a special talent.
In 2013, he registered 108 tackles for Boston College. He is a 4.45+ runner with sensational agility. Why he wasn't a 1st or 2nd-round pick, I have no idea. There are no issues off the field that we have uncovered.
He's likely not ready for consistent IDP just yet, but he is one to keep an eye on in a deeper roster dynasty league as he plays more snaps.  Eventually, we feel he is going to make a huge IDP impact, but it might be more 2015.
LB Kyle Van Noy, Detroit
IDP rookie Kyle Van Noy is the Lions second round draft pick who missed the first eight games of the season due to injury, but he's back now. He made his debut in Week 10, and had two tackles in just a handful of snaps.  He is a talent, as a tackler and pass rusher (a la rookie IDP Anthony Barr) and should be playing a lot more snaps ahead. He's one to watch, and one you might have slight concerns about if you are a DeAndre Levy owner. Not that Levy is going to get bumped by Van Noy, just that he could have some of his numbers cut into in 2014…and beyond.
– R.C. Fischer is an NFL Draft analyst for College Football Metrics.com, and a football projections analyst for Fantasy Football Metrics.com. His group also provides player projections for Advanced Sports Logic's football software "The Machine." See "The Machine" here: The Machine via FFM