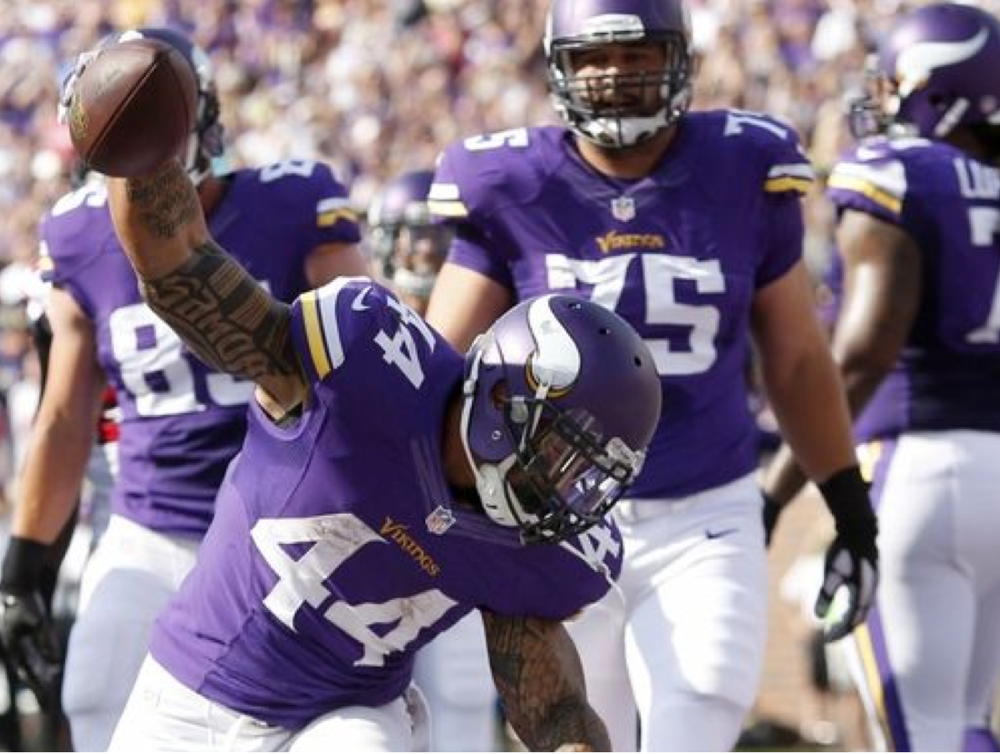 RB Fantasy Football News
LeSean McCoy and Jerick McKinnon fantasy RB owners got demolished during Week 9 thanks to the fantasy vultures that are not able to do anything except score touchdowns. McCoy posted an impressive stat line against the Texans gaining 123 all-purpose yards, but is was backup running back Chris Polk who scored the touchdown. Even worse was the fate of McKinnon owners who watched the rookie get them into the red zone 3 times only to have the lead-footed Matt Asiata vulture three scores while gaining a whopping total of 26 yards.
For the first month of the season, it looked as if Asiata would be able to replace a percentage of the production that Adrian Peterson (constantly in RB news) was able to deliver. Certainly not as an RB1, but perhaps a serviceable flex option. However, during his last three games leading up to Sunday, Asiata rushed for a total of 20 yards, even going backwards in one contest to the tune of a NEGATIVE 5 stat line.
Enter McKinnon, a more promising talent to shoulder the ball-carrying load. While Asiata was stuck in the mud, McKinnon put up games of 40, 103, and 83 yards, and is averaging 5 yards per carry on the season. On Sunday, he put up a respectable 54 yards rushing and 14 yards receiving. The problem is that McKinnon would have to bust off a huge run to get into the endzone because the coaching staff turns Asiata once they are inside the 20.
The biggest issue in discerning fantasy value for either player is that Asiata has scored his six touchdowns in only two games. If you guess wrong and give him a start when he fails to hit pay dirt, then you've crippled your roster for that given week. McKinnon could be a potential flex, but he may only give you 5 or 6 points, because he is NOT given a chance to finish the drives he helps move down the field.
In this space last week, we discussed the conundrum of LeSean McCoy: great player, not so great season. Well, this week against the Texans, Philadelphia needed every bit of McCoy's 117 rushing yards in light of Nick Foles going down with a broken collarbone. But, Shady didn't score. Again!
At the 4:04 mark of the third quarter, and the game still in the balance, the Eagles got the ball at their own 30 yard line. Shady immediately ripped off runs of 14 and 26 yards. With the Houston defense on their heels, Chris Polk came in and finished the job, scoring on a run from eight yards out two plays later. This was a crushing sequence for those who stuck to their guns and started McCoy. He does Shady McCoy football moves we've seen time and time again, takes a breather on the sideline, and watches someone steal his touchdown away.
The game, as a whole entity, was encouraging. And, with Foles out for an indefinite amount of time, the Eagles will need McCoy to have consistent, hundred yard games. However, until he starts finding the end zone more often, Shady is still a flex option. It's unfortunate, but true.
For the best RB fantasy news, stay tuned to ASL's fantasy blog!