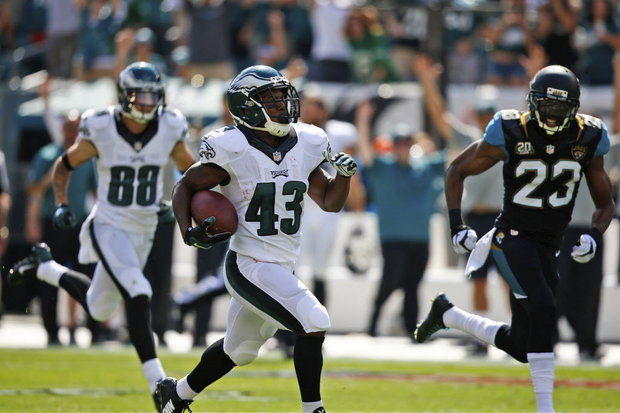 Here is a list of Fantasy Injury Updates:
RB - Darren Sproles – Questionable
Eagles running back Darren Sproles has been struggling with a knee issue since he got injured two weeks ago in a Sunday night game against the Giants. He's been limited in practice all week long and is certainly at less than 100%
RB - Shane Vereen – Starting
Shane Vereen has been sick and missed Friday's practice, but is not expected to miss any time during the Patriots home matchup against the visiting Bears. He's a solid play against a shaky Chicago defense.
RB - Trent Richardson – Questionable
No final decision has been made yet, but it looks like the Colts are going to hold Trent Richardson out of this afternoon's game against the Steelers. Richardson is struggling with a hamstring issue and has been in our NFL injury updates a lot. If he's held out of the game, Ahmad Bradshaw owners could see a nice boost in production against the subpar Steelers defense.
WR - Vincent Jackson – Starting
As the trade talks swirl around Bucs receiver Vincent Jackson, he's been listed as questionable all week long with sore ribs. However, Jackson played through the injury during Week 6 and benefitted from extra time off with a bye week. He is a strong play at home against a patchy Vikings pass defense.
WR - A.J. Green – OUT
A.J. Green says he will be at less than hundred percent for the rest of the season because of a toe injury and will NOT suit up for the Bengals Week 8 contest against the visiting Ravens. Fantasy owners should not expect Green to return any time before Week 10.
WR - Reggie Wayne – OUT
Reggie Wayne will NOT be in the Colts Week 8 lineup on the road against the Steelers. He hurt his elbow during Week 7 against the Bengals and his numbers have been tumbling since a big game against the Titans during Week 4.
TE - Jimmy Graham - Starting

Jimmy Graham fantasy owners are left in a tough spot again as the banged up tight end will likely play tonight against the visiting Green Bay Packers. Graham was used only as a decoy last week against the Lions and dropped a big fat ZERO on fantasy owners. However, he is Jimmy Graham and you have no choice but to plug him into your lineup tonight and hope for the best.
Stay tuned to Fantasy Focus for the latest injury updates.