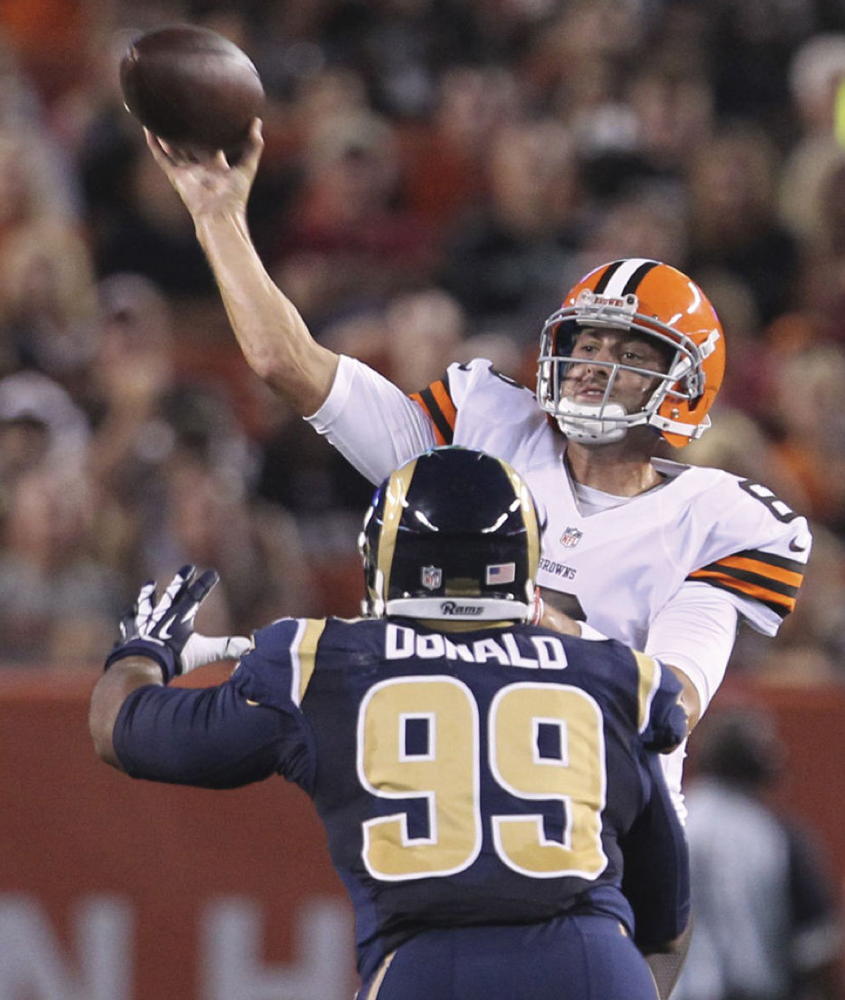 Fantasy Waiver Wire Pickups -
DL Aaron Donald, St. Louis (Currently #40 ranked DL for Week-8 on Fantasy Pros)
To me, and our computer scouting models, IDP Aaron Donald was arguably the single best player in 2014 NFL Draft (Ryan Shazier being the other consideration). The world will rarely see a DT prospect like Aaron Donald...one of the most athletically nimble, and gifted college DTs we've seen in years.
He has an incredible nose for the ball, and amazing ability to slip past blockers. In his first four games this season, Donald was not starting, but played sporadically. Through four games, he was averaging 26.5 defensive snaps per game...42.7% of the available defensive snaps. During that span, he averaged just 1.8 tackles per game.
During the past two weeks, Donald has been unleashed. He's played 54.5 defensive snaps in Weeks 6-7 (79.6% of the snaps...high for a rookie DT), leading the Rams D-Line in snaps in Week-6. With the increased time has come increased output: 4.5 tackles per game. He had 3.0 tackles-for-loss, and a sack last week (and sacks have been rare for the Rams this season). Donald is too good to play part time...and miraculously the Rams run-defense has gone from a sieve to stellar during the past two weeks with Donald leading the way. They shut down Frank Gore and Marshawn Lynch. I'm not sure if it starts in Week-8, or 2018, but Donald is going to be one of the premier Defensive Tackles in the NFL...so says our computer models.  Definitely one of the best fantasy pickups available.
LB Jeremiah George, Jacksonville (Currently listed as a NY Jet on Fantasy Pros, and definitely not in the top-50 for Week-8)
Now, this is a deep-sleeper IDP...
Originally drafted by the NY Jets in the 5th-round this season, LB Jeremiah George was eventually released to add WR Walt Powell (the single stupidest WR-related personnel decision by the Jets in 2014...not Percy Harvin). Our computer scouting models 'liked' George, but I 'loved' what I saw on tape in college and in the preseason. George was created to be a Middle Linebacker. He plays 150% at all times, and has an excellent ability to slice through traffic and blow up a RB or WR coming out of the backfield.
During 2013 with Iowa State, George was 1st in the Big-12 in total tackles and 10th in the nation with 133 tackles in 12 games (11.1 per game). Consider, George had just two tackles opening day 2013 against Northern Iowa…which means he averaged 11.9 tackles per game against his D1 schedule last college season.  
The Jaguars stud ILB Paul Posluszny was lost for the season last week, and journeyman/backup LB J.T. Thomas is projected to start in place of Posluszny, and he's OK, but George is better (we feel). I assume George will be active this week, and if he gets in on some plays...there may be no turning back.
He's either a 'watch list' guy, or Dynasty deep-sleeper stash to see what unfolds.
 
CB Bradley Roby, Denver (Not currently in the top-50 DBs for Week-8 on Fantasy Pros)
We felt Bradley Roby would be the best pro of all the 2014 NFL Draft CB prospects, and so far we have been correct. Roby has been terrific since game-one for Denver. He's played a key role in stifling an aerial comeback attempt by the Colts...with Roby shutting down Reggie Wayne on many targets in the second half.
For Fantasy purposes, Roby has clearly out-produced, and outscored his big-name Denver DB teammates T.J. Ward and Aqib Talib. Roby is like a strong safety playing cornerback...he has elite speed along with a big-hitter mentality. He's had six or more tackles in a game three-times this season, Talib and Ward have done that just once so far in 2014.
Roby has also posted 1.0 PDs per game as well. I can't wait until he gets more experience! The Broncos often jump on opponents, and force them to the air to keep up...which is great for the Denver DBs for Fantasy, and so far Roby has capitalized the most. It should only get better from here.
-- R.C. Fischer is an NFL Draft analyst for College Football Metrics.com, and a football projections analyst for Fantasy Football Metrics.com. His group also provides player projections for Advanced Sports Logic's football software "The Machine."