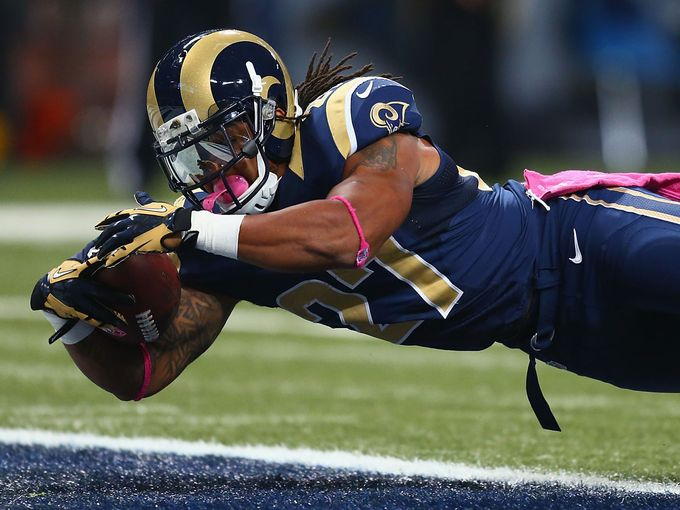 RB Fantasy News -
The St. Louis Rams entered Sunday's matchup against the Seahawks reeling. Just a week ago, the 49ers manhandled them on national television. The team was a disaster on both sides of the ball and their defense had a grand total of just one sack on the year.
So of course, that same Rams team came out and beat the defending champs this week.
And except for a few gutsy special teams calls, the two biggest reasons for the Rams win was their resurgent pass rush and rookie fantasy RB Tre Mason.
The former Auburn back ran for 85 yards and a score, providing great sleeper RB fantasy football value for any fantasy owner that took a chance on him earlier this year. However, the key question now, is should fantasy owners be rushing to pick him up?

Is the rookie ready to take the reins for the rest of the season?
The answer is yes, and here's why.
First, we need to look at who Mason is competing against to get touches week-to-week.
Benny Cunningham has provided some contribution in the passing game, his best effort coming this week with 46 yards and a touchdown. However, he only had two carries for three yards, and has yet to make a mark in that respect all season.
Zac Stacy? Forget about that guy. Once an intriguing fantasy prospect, Stacy is no more than an afterthought at this point. Against the Seahawks, he had a whopping zero carries. Not only is Mason more talented than Stacy, but the Rams already trust him with the bigger workload.
For the moment, Mason's biggest competition for carries is Tavon Austin. And while versatile, Austin is not a running back.
Another reason fantasy owners should take a chance on Mason is his aforementioned talent. He may be a rookie, but Mason is the Rams most skilled back. He was a beast at Auburn, and was just as big of a part of their national championship game run as quarterback Nick Marshall. He runs low to the ground, can take a hit, and is deceptively fast. He ran a 4.5 40 yard dash at the combine.
Taking his competition and talent into account, we must also remember that his sample size is small. Mason only has two games' worth of carries to show. However, there's no reason to believe he won't keep getting chances to put up stats.  Rams quarterback Austin Davis needs all the help he can get and Mason is their best option for building some type of running game.
The only caveat from the Seahawks game is that Mason will need to prove that he can hang onto the ball, as he had a critical fumble with under two minutes to go in the game. Lucky for him and the Rams, a review of which team recovered the fumble was inconclusive and the Rams were able to run out the clock.

The Rams are 2-4 and likely out of the playoff chase. However, they may have stolen Tre Mason in the third round of last year's draft and wound up with a running back for the future. Do the same and pick him up if he's available in your league.
Get the most up to the minute advice and RB news with ASL!